How to clean coffee maker with a simple kitchen condiment



How to clean coffee maker is about the second most asked question, after the best coffee maker. And by coffee maker, I meant drip coffee makers. Espresso machines with their thick manuals probably covers everything and single serve is simple to clean.
**By the way, do you know that cleaning coffee makers is a way to getting great coffee? Learn this and more in our free coffee course.
And so, what would the kitchen "stuff" that I would used to clean the drip coffee makers. Correct, it is acidic, so it has to be vinegar. Sure, some might question the sanity of using such a strong smelling agent, because we all know that coffee absorb flavor easily, so it is wise to be using vinegar?
That is why, you have to follow this "how to clean coffee maker" carefully, to ensure that you wash the coffee maker clean and is also able to remove the vinegar flavor.
Cleaning coffee maker with vinegar is good because it is natural, so is free of anything artificial materials. Then, its acidic properties would help us to remove the lime scale, coffee oils and minerals build up. 1. How to clean coffee maker pot and mesh
If you are expecting a 20 steps, 6 pages how to clean coffee maker procedures, then you might be glad to know that each step contains only a few sentences. To clean the coffee pot, filled it with vinegar, then take the mesh filter and give it a soapy wash.
2. How to clean coffee maker filter
Fill the coffee maker and coffee pot with vinegar then start the coffee maker. Since you are at it, remove the coffee pot from the filter. This would allow the vinegar to collect in the filter and clean it as well.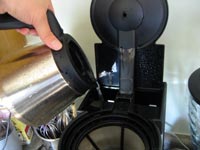 I guess this is the most visible in this cleaning coffee maker article because you can see the vinegar working to clean away the scaling and mineral deposits.
3. Rinse and clean
After removing all the scale and deposits, you can remove the coffee pot and pour away the vinegar. Then, you must rinse and wash the coffee pot a few times to clear all the scale and deposits.
If you are always cleaning your coffee maker, doing this process once might be enough, but if this is the first time that you are doing it. Then, you might want to do it a few time (at least twice) to ensure that you get rid of all the grim and particles build up.
There you have it, not as complicated as you have thought right? With a common condiment that all families would have and simple steps to de-mystify the cleaning drip coffee maker procedures, I hope all your folks would get good coffee by this regular maintenance of your coffee maker...