Coffee Makers One Cup Format Is "in"



As the name implies, single serve coffee machine or coffee makers one cup format are coffee machines designed to brew only one cup of coffee at a time.
They are gaining their popularity because of good things they have to offer to the user. Such things include: easy to use, easy to clean, and makes a cup of coffee quickly.
There are few popular brands of single serving coffee machines. They were popular because each of these machines has something to offer.
Some of them have their own distinctive feature that is different from the others.
---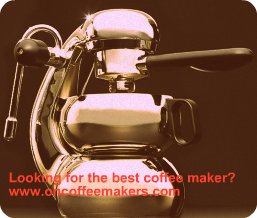 If you are looking at this, chances are you are searching for a best coffee brewer, at least one that is for your lifestyle.
This page probably cannot help you much, no coffee maker reviews or ratings can. Ultimately, all reviews provides you with data, you need to decide which is best for yourself.
This link would take you towards a search page that comprises of amazon, google and oncoffeemakers data. A lot of data, but you still need to make your own decisions...

---


Listed down are the few popular coffee makers one cup formats:
Keurig Single Serve Coffee Maker
Keurig coffee machines are one of the most well known when it comes to single cup coffee brewer. The thing that this coffee maker becomes different from other is the K cups that they use in brewing coffee.
This k cups comes with over 100 diverse varieties of coffee, chocolate, and tea drinks that is manufactured by well known coffee companies.
Here are the features of Keurig Single Serve coffee machines:
• Uses extraordinary K cups
• Has four brew-size options
• Quiet brew technology
• 24 hrs. digital timer or clock
• Programmable LCD display
• Removable water tank that can handle 60 ounce of water
• Drip tray that is removable.
• Easy to clean
• Easy to use

Senseo Single Serve Coffee Makers
Senseo is a product of Philips. These machines got the attention of the customers because of high performance and sleek design.
The pressure that this machine uses makes the brewing of coffee very quick and the machine can brew up also 2 cups of coffee one at a time. Senseo coffee machines uses Senseo pods which have different selection to choose from.
Here are the features of Senseo coffee makers one cup format:
• Can brew a maximum of 8 ounce between 30-60 seconds
• Works with pre measured coffee pods that is sealed
• Size selector button
• Two pod holders
• Deeper filter
• Easy to clean
• Easy to use
• Dishwasher safe

Tassimo Single Serve Coffee Maker
Tassimo coffee makers were first created by Braun but they were manufactured by Bosch these days. Like the Keurig coffee machines, this machine also has something that makes it unique, the T disc. Tassimo coffee machines use T disc to brew different kinds of drinks like coffee, cocoa, and tea. The most interesting part in this product is the barcode system that can be seen in the discs.
Here are the features of Tassimo coffee makers
• Uses T disc barcode system
• Has an LED interface
• Size and strength selector for customizing your drinks
• No measuring and no fuss
• Removable 67 ounce water tank

Nespresso Single Serve Coffee Maker
Nespresso coffee makers one cup format captured the attention of people because of their stunning design and the capsule system that they had.
This coffee makers one cup format uses pre measured capsule. The capsules contain 100% pure Arabica coffee and they come with different premium brands.
Here are features of Nespresso coffee machines
• Uses capsule so no need to grind
• 15 bar pressure pump
• Custom-control lever to adjust coffee strength
• Removable 51 ounce water tank
• Removable drip tray
• Easy to clean
• Easy to use

If you are looking for coffee maker senseo or other pod coffee maker, then check out our homepage and look through the extensive reviews and articles for more information