Breville Ikon Is About the Look and Feel



Breville ikon comes from a company that has been around for more than seventy five years in manufacturing.
They manufactured a wide range of kitchen appliances, from Breville blender, Breville Juicer, Breville Kettle to Breville Coffee products (even cleaning products).
One innovative product to consider when you are dealing with the wide range of Breville products is the Ikon Espresso Machine.
The Breville Ikon Espresso Machine is a semi-automatic espresso machine that features a 15-bar pump pressure and boiler heating system that is made of stainless steel.
These features within the Breville Ikon Espresso Machine ensures that water is heated and sustained at the optimal temperature for greatest extraction of coffee flavor.
---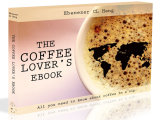 Love coffee? Here is some more "free stuff"! Learn more with this ebook (is free!)



---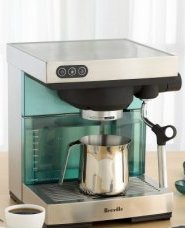 It also features a commercial size rotating steam wand including steam milk and frothing attachment to produce a cafe style latte, cappuccino or espresso.
This espresso machine is very easy to use and the good height between the cups and filters is perfect.
For convenience, it has an advanced dual wall crema system, detachable water tank, includes expressly designed cleaning accessories and tools, as well as an eject filter system that makes for easy removal to clean and exchange filters.
In addition, this Ikon espresso machine boiler system is really high in performance. It presents an accuracy coffee extraction temperature with commercial power steam pressure.
It has an easy to use electronic control pad, as well as a solid die-cast base with dual wall brushed stainless brace body construction and framework, and that also modernizes the look of the machine.
With Ikon espresso machine, you no longer need to worry about not getting the perfect gourmet coffee. All the needed features and functionalities of an espresso machine are all integrated into this unit.
In fact, an expert says that this espresso machine is really a state-of-the-art because of its ability to produce perfect gourmet coffee in just few minutes.
Not only that, some claimed that this espresso machine is suitable for any kitchen décor because of its chic and trendy looks.
While Breville Ikon espresso machine does good espresso, however, it is the look and feel of the machine that really motivates one to purchase it. Obviously, looks does matter and that is why this espresso machine shines in the market.
If this breville appliances does not suit you, you might need a coffee maker that is easier to use and probably cheaper (check out the link to learn more).