How many turkish coffee pots do you need?



Turkish coffee pots were basically one of the first coffee makers that ever existed. They are called by many names – the cezve. ibrik , Briki, Jesvah, Pannikin, and many more, although most people use the name ibrik when referring to them.
Though modern technology has led to the invention of automatic coffee machines, Turkish coffee is still brewed using the traditional
Turkish coffee maker
.
Turkish coffee pots interestingly enough look like large smoking pipes. This is because the ibrik was specifically designed to have longer handles so that the user would be able to avoid burning his hands while making the coffee.
The handles can be made of wood or metal. Sometimes, these handles may also have some decorative patterns to make them more aesthetically pleasing, and of course, add more value to the item. The pot is also shaped to be wider on the bottom with a smaller brim.
---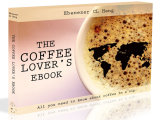 Love coffee? Here is some more "free stuff"! Learn more with this ebook (is free!)



---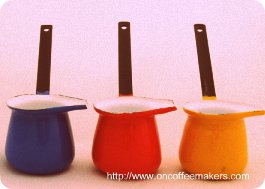 The smaller brim of the pot allows the user to pour and serve coffee easily and avoid spillage. Some pots are also designed with decorative patterns to add to its value.
Another interesting fact about the ibrik is that it is designed specifically for a certain number of people (or number of servings). So there are ibriks made for 2 servings, 4 servings, 5 servings, and so on. It is advisable to have at least 2-3 different sizes of the ibriks at home for different occasions. There are basically two traditional types of ibrik – those made of copper and those made of brass. The copper tin lined coffee ibrik is more conducive to heat.
This helps speed up your brewing process. The disadvantage of the copper ibrik is that it loses its luster mush faster than its brass counterpart. On the other hand, the brass tin lined coffee ibrik is more resilient than the copper one.
It doesn't lose its shiny appearance as fast as the copper ibrik. Though they heat much slower than the copper ibrik, many prefer this because heating coffee slowly produces better tasting coffee.
The equivalent of Turkish coffee pots in the tea world would be the glass tea pots. The function is similar but the difference with an infuser teapot is its glass teapot infuser, which basically strains the tea leaves.
Unlike for Turkish coffee pots where the coffee grounds aren't strained during the brewing process, so they remain at the bottom of the cup. The coffee grounds that remain in the cup are oftentimes used for fortune telling. Now, you might need another ibrik for fortune telling, don't you agree?