Saeco Espresso Machine, the one button wonder.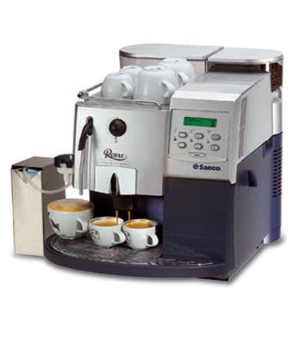 Saeco espresso machine is all about the number -one! One button for the espresso process, one machine for multiple coffee types, the number one in Europe espresso market.
But of course, if you are going to buy a Saeco, it would be the first 2 'one' that you would be concern about. Although the number one in Europe espresso market saids a lot on the quality of this company and the trust that it has from consumers in a mature market.
The competitive advantage that any espresso machine makers can have in this tight and challenging coffee market is to reduce the hassle but still maintain the ability to be seen as producer of gourmet coffee makers.
And Saeco espresso machine has done that with its easy to use and most importantly easy to clean, the former which one can do it with a press of a single button.
This is also one machine which can brew many types of coffee.From a regular long black, to the dazzling variety of espresso drinks (i.e. Cappuccino, latte etc). All prepared, of course, with one button.
When it comes to preparing an espresso, all one need to do is to press one button. This would get the Saeco to grind the coffee beans, tamp them correctly and pressure a cup of fresh espresso. They would even discard the grinds, to prepare for your next espresso.
I do not know all you folks, but to me, cleaning is a drag. The flushing, the removal of each espresso machines' parts, it is just not listed as one of my fun activity. well, Saeco easy clean systems (I understand that this is a patented system), the whole brewing device can be easily removed for quick cleaning/ While it is still not much fun, it is really so much easier...
Cappuccino lovers would love the Saeco Rapid Steam. This device is fast in delivering the cappuccino, so unlike the usual boiler steam, where one have to wait for the boiler to change from brewing to steaming temperature. To better the deal, each machines also comes with a pannarello frothing attachment, a special frothing aid that makes it so much easier to froth.
There must be a lot of cappuccino lovers out there for this company to take so good care of this group of consumers. Why? Other than rapid steam and the "special steam wand", saeco espresso machine has a Cappuccinatore and pressurized filter holder.
This is a time saving device that draws the milk directly out of a container and froths and steams it into a dense, rich froth. The pressurized filter holder manages water pressure during extraction making it rich and creamy consistently.
There are other benefits that I can probably go into, like the burr grinder that gives one a finer and more even grind. But, this fellow would have some drawbacks right?
The only one that I can think of is probably on the cost. Saeco espresso machine is a pricey investment, an entry level Saeco Vienna is retailing at about USD$ 400 plus.
So, if you are looking for easy solution for a great brew and can afford this luxury -Saeco should be the one...