Plumbed coffee maker is better than under cabinet?



Whether plumbed coffee maker is better than an under cabinet coffee maker or if it is really good, is a matter of perspective. It goes back to the same old theory on how everyone has their own personal taste profile, so similarly, your life style determines if this coffee machine is good.
It is easy to get confused with so many terms going around, plumbed coffee maker is known as built in coffee maker, now under cabinet is also known as built in. The fact is, nobody is wrong, it is just a matter of naming the machines.
However, between plumbed and under cabinet brewer, the technology is vastly different. Under cabinet while offering you an alternative to hid it under your counter top, is a very simple drip filter coffee machine. The most well known machine under this category is the Space maker from Black and Decker.
The plumbed brewer is a very sophisticated machine that does not requires you to add any water, almost everything is processed automatically, you only need to add in your favorite coffee blend and set the brewing conditions that you would want to enjoy your coffee.
Well, this automation does come at a price. Firstly, this machine is much more pricey than the under cabinet brewer. Secondly, because it is a built in, you would need to get a plumber to install the brewer, unless you are a certified plumber, otherwise, this installation charges has to be spend.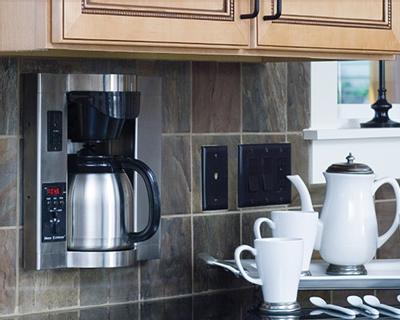 Lastly, you do not an add on to this entire set up. Other than paying for this built in coffee maker, you would need to purchase and install a water filter in order for this machine to work well.
Reading until here, for those that are always browsing for coffee makers, you would know that this brewer that I am referring to is the brew express by Lance Larkin. It claimed to be the first built in the wall coffee maker, I am not too sure about that, but the other features that it highlighted are true and pretty cool.
The best feature about getting a built in machine is of course the "hidden" nature of it. Unless you are living in a very big house, otherwise space is a premium and you would definitely appreciate any space savings that you can get.
Other than single serve coffee maker, not many coffee brewer can be as easy to operate as this plumbed coffee maker. You just need to add the coffee beans, as the water inlets has all been set, a few buttons is all you need to enjoy the cuppa!
When I saw the stainless steel metal plate which its carafe was resting on, I almost write off this Lance Larkin coffee maker. I was thinking how could such a good set up be using a warmer plate!
Thankfully, it is only for holding purpose. The carafe is a thermal one, so it can keep your coffee hot and fresh for up to 3 hours. A feature which I personally think is important to enjoy your coffee.
A plumbed coffee maker is definitely a good to have, its major drawback would be the cost involved. A machine with the relevant installation would cost you at least $500, while an under cabinet coffee maker retails for less than $100 and you can install it yourself.
So, you decide for yourself after reading this article, if plumbed is better than under cabinet brewer...