Two Newco Coffee Machines That Are Perfect for the Office



Looking for a good coffee machine that you can use in your office? Consider these Newco coffee machines: the Newco Moo Café and the Newco Mini Cappuccino.
Both of these Newco coffee makers are very stylish and inviting and a breath of fresh air amidst all the stainless steel commercial and industrial espresso machines that have populated the market.
Newco Moo Café
The Newco Moo Café is a gourmet coffee brewer that utilizes real milk. It measures 13 ¾ by 25 ½ by 17 ½ inches. It is very easy to use.
It features digital electronics that allow you to easily select preset settings, which you can also manually edit to suit your tastes. Furthermore, the Newco Moo Café allows you to select between hot or cold based coffee drinks.
---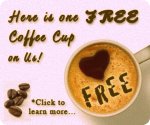 STOP. Here is another way to get free coffee! I assumed you must be a coffee lover, with plenty of stories and thoughts about coffee -write us one.

And we would buy you a coffee literally (maybe even enough for a flavored coffee...Click on the link to claim

---

The highlight of the Newco Moo Café is its ability to dispense real milk. It also monitors and maintains the ideal water temperature for both hot and cold coffee drinks and provides exactly the ideal water to coffee ratio.
The Newco Moo Café comes with a Smart Automatic Sanitation feature, which keeps whipping chambers and tubing clean. Furthermore, it alerts the user whenever the machine is cleaning itself by providing visual and audible alerts.
Newco Mini Cappuccino
The Newco Mini Cappuccino is a very compact cappuccino machine that is ideal to use in any commercial establishment. It measures only 10 ¾ by 20 ¼ by 17 ½ inches.
It is fully programmable and features one-touch controls. Push a button, and in moments you get a nice cup of French vanilla, mocha, or cappuccino.
It allows you to set the strength of the hot beverage as well as the temperature with which it is served. It features 3 2lb hoppers and individual whipping chambers.
The Newco Mini Cappuccino also has an Auto-Rinse feature similar to that of the Newco Moo Café, which allows the machine to clean itself.
The Newco Moo Café and the Newco Mini Cappuccino – these are two Newco coffee machines that are perfect for the office.
The Newco coffee company has always been known as one of the premier coffee maker brands dedicated to bringing high quality coffee makers and espresso machines to the workplace.
Apart from their ACE Series, Barista Series, OCS Series, and AK Series, the Newco Moo Café and the Newco Mini Cappuccino are high-quality commercial-grade Newco coffee machines.
They are designed especially for any commercial establishment, whether it's the office, sports arena, convenience store, or gas station.