Why nespresso is good?






Firstly, Nespresso
is the first to aggressively come out with the single serve coffee maker concept. In fact, the extraction of coffee from capsules with ground coffee was patented by Nestle since 1976.
Then, the very first nespresso was introduced to the business market in 1986. By being the first and with at least 10 more years of research than any of its competitors, this nestle single serve coffee knows a lot about the single serve coffee technology.
So how does this coffee capsule works? If you read the R&D papers, you would probably click off before you even finished reading this paragraph, so I would try to give a very condensed version.
The nespresso capsule top side and base are covered with aluminum foil, with the base having a thinner layer. When the capsule is inside the coffee maker, the top of the capsule is punctured and hot water with pressure of 19 bar is rushed into the capsule.
This activity would cause the base to bow due to the fact that the base is thinner and this would cause the squares at the base of the capsule to burst. The coffee (which has been seep by the hot water inside the capsule would flow into your cup, voila -your favorite nespresso coffee!
Sounds simple right? In fact, nespresso like any singe serve coffee maker is superbly easy to use, simply press a button is all it takes for a great cup of coffee. If you are looking for a great coffee that is easy to prepare, this is a good solution to be looking at.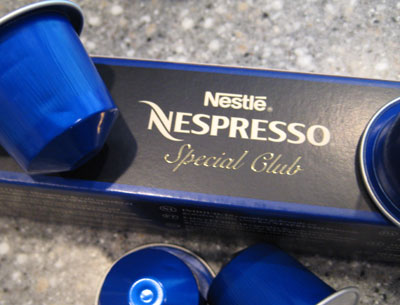 In addition, this nestle single serve coffee has 12 different types of capsules allows you to choose the taste according to strength, acidity and bitterness, this is almost as good as roasting it yourself (maybe even better, unless you are a very accomplished coffee roaster!).
So, nespresso is good? Personally, I think they are great. But, as in all things, there are criticism.The main one being a closed system. While many other single serve coffee maker, like senseo have opened out and are allowing other coffee on their system, with this nestle single serve, you can only use its own coffee.
This is the single impactors that would turn people away from this coffee, we know that, variety is what coffee lovers are looking for, right?
Some other concerns are the use of aluminum for its capsules, which they are already aggressively implementing recycling program. Another common concern is the no fair trade endorsement on this nestle coffee, although they got AAA sustainable quality from the rainforst alliance.
I guess other than the closed system, the rest of the grouses are really nothing. This is indeed a quality premium coffee, but it do need to take into consideration of the market demands. If consumers loves variety, it would do them good, if they can opened out and partner with some other big single serve coffee brands, i.e. Douwe Egberts?
Oh...to round up, yes, this single serve coffee from nestle is good.






Other Articles Related to this Nestle espresso
Nestle espresso Coffee Maker Is Magical?
Nes-presso coffee maker under the magimix series is the combination of a quality kitchen equipment and the world's largest coffee roaster...



Have A Great Story About Nespresso?
Do you have a great story about Nespresso? Share it!
What Other Visitors Have Said
Click below to see contributions from other visitors to this page...