Mr Coffee maker is one of the few that can serve espresso and cappuccino at less than 50 dollars!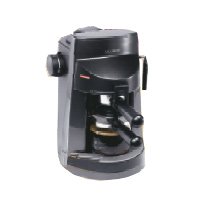 Mr coffee maker wide range of coffee machine , makes it difficult to say which is the best.However, to me if it is low in cost and able to make that preferred cuppa, it is one of my gourmet coffee makers!
Some of you might even be surprised that the machine that I am putting forth is not its drip machines. This is because, to me I saw another equipment rather than drip coffee maker that is better value of money.
If I would want to highlight a drip machine, I would highlighted Bunn GR10, which I think is a good value of money. But when it come to Mr Coffee, I just felt that the most value for money has to be its espresso/cappuccino maker, ECM250.
And I know that because they are the first to introduce the automatic drip coffee to US in the 1970's, many would think that this is their best product. They still make great drip makers, it is just that after reading this, you would have to agreed with me that ECM250 is a powerhouse!
Mr Coffee Maker ECM 250 can makes espresso, cappuccino, mocha and lattes. Given its ability to make cappuccino, it comes with a user friendly milk frother, that is easy to make that perfect froth.
Although small, it comes with a tamper, milk frother and a easy to pour decanter. To select your drinks, there is the 3 way select knob that allows for separate brewing and frothing...
Still, I guess the best value add for this Mr Coffee maker is its ability to choose the number of serves. It can dispense either 1 cup and up to a max of 4 cups of coffees. Reducing the wastage of making 1 pot for personal consumption.
As with all purchase, maintenance is one key consideration? Well, this Mr coffee maker, or ECM 250** is almost fully dismantable. With its removable drip tray, easy to clean frothing aid, portable decanter, cleaning is a breeze.
**This is something which I must express: why can't they named their coffee makers something cuter, i.e. The tiny espessy, or the little cappucy, ECM 250 sounds so scientific...we are drinking coffee for goodness sake,something that is related to an experience not making some atomic solution!!:)
With hot property prices, small living areas, space is important and this tiny ECM 250 hardly takes up any space -again another plus point for coffee lovers.
Okay, We are coming to the last point and I leave the best for the last, how much? At less than 50 dollars, this has to be one of the cheapest espresso machines around!
Did I not told you that I would highlight one of the best value for Mr coffee Maker, and to me the ECM 250 is the best value in Mr Coffee Maker stable of coffee machines.
So, if you are looking for an espresso experience and does not want to invest too heavily, this would be a good choice. I also feel that this machine is closest to Mr Coffee initial business mantra, "making it possible for millions of Americans to enjoy coffee on their own terms, when, where and how they want it."