Mazzer coffee grinder -where small is good



Mazzer coffee grinder is but one component towards better coffee. Making the perfect cup of espresso in your own home depends on a number of factors, one of which is the size and consistency of your coffee grounds.
As such, it is very crucial to have a
coffee grinder
that not only grinds coffee beans into very fine coffee grounds, but should also be able to grind evenly and consistently. This article focuses on the Mazzer Mini, a coffee grinder built specifically for making espresso.
Even though it's called the Mazzer Mini, it is anything but small. This Mazzer coffee grinder is huge. You will definitely need a bit of counter space for this machine.
Furthermore, this Mazzer coffee grinder is heavy. It weighs around 22 pounds. This alone might put off a lot of people from buying this machine.
---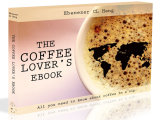 Love coffee? Here is some more "free stuff"! Learn more with this ebook (is free!)



---

However, it pays to ask why it's built that way. For one, having good stability is crucial to getting an even and consistent grind. That is why this machine weighs heavy.
Furthermore, it is enclosed in a steel housing. Second, a grinder should be built well-equipped to withstand the stress and abuse that come with frequent usage.
The Mazzer Mini was designed to withstand constant use and abuse in places such as restaurants and coffee bars. Therefore, you can be sure that it can easily withstand multiple uses per day in your own home.
Most importantly, this Mazzer coffee grinder grinds beans into a very fine grind evenly and consistently each and every time. It runs on a 250 watt motor that operates at 1600 rpm.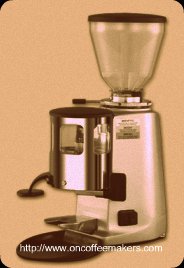 Moreover, it's a burr coffee grinder, which is the best type of coffee grinder today. With a burr grinder with steel burrs, a strong motor, and a good base, you can be sure that you will get finely ground beans time and time again.
Operating, cleaning, and maintaining the Mazzer Mini is easy. It has infinite grind settings and an automatic shutoff feature, which literally make it a "grind and forget" grinder.
Once it has ground the beans to your desired fineness evenly, it automatically shuts off. Therefore, you don't need to worry about breaking the motor if you leave it grinding coffee beans unattended.
Furthermore, the bean basket mounted on top of the unit is easily removable, making it easier to isolate and access while cleaning.
In other words, the Mazzer Mini was designed not just to outperform other grinders in the market today, but to be convenient and very easy to use for those who want to use this in their own homes.
If maintained and cleaned frequently, this unit will keep on grinding beans for you for long, long time.
Making the perfect cup of espresso at home seems like an impossible dream. However, with the Mazzer Mini in our disposal, we can go one step closer to that otherwise unattainable dream.
This is why the Mazzer Mini has been received with praise and overwhelmingly positive reviews. It's very sturdy, durable, convenient, and most important of all, it does what it promises to do, which is to grind coffee beans into a fine grind evenly and consistently every time.