Krups Aroma Control Coffee Maker 199-7D



Krups aroma control coffee maker is just one of the good coffee brewers from this company.
Krups has been designing and manufacturing coffee makers for the past decades, and has become one of the most popular coffee maker brands in the world.
Krups coffee makers come in different shapes and sizes, which cater to every coffee lover's need. If you're looking for a 10-cup coffee maker, which has a programmable timer and has a thermal carafe, then Krups has designed a coffee maker just for you --- the Krups 199-7D Aroma Control 10-Cup Programmable Thermal Coffee Maker.
At first glance, you would be taken by the Krups Aroma Control Coffee Maker due to its very stylish and elegant appearance.
---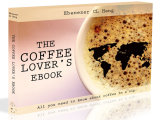 Love coffee? Here is some more "free stuff"! Learn more with this ebook (is free!)



---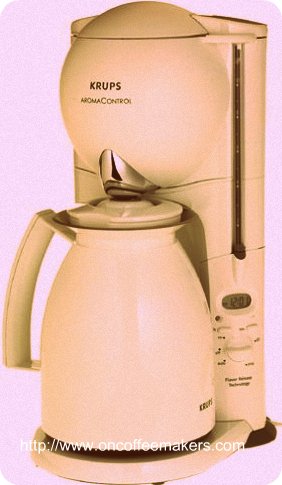 It doesn't look like a conventional coffee maker at all, due to its round and curved lines. The external appearance of the machine is absolutely beautiful, and it will be the subject of conversation when your guests lay their eyes on it.
It boasts convenient features that make coffee makers very convenient and worthwhile to have. First of all, it has a programmable timer.
This feature allows you to set it to brew at any designated time. For instance, you can set it to brew coffee around the time that you wake up the next morning so you can wake up to a freshly brewed pot of coffee.
In addition, it also features the pause-and-serve function. This allows you to pour coffee before the brewing process is completed. Once you remove the carafe from the Krups Aroma Control Coffee Maker, the flow of coffee stops for 20 seconds, giving you enough time for a quick pour.
Obviously, this Krups Aroma Control Coffee Maker wouldn't be much of a coffee maker if it doesn't produce great coffee.
Being one of the coffee makers under the Krups Aroma Control line along with the Krups 229 and Krups 268, you can be sure that this machine does the job well.
Unlike other coffee makers, this machine steeps ground coffee for nearly 2 minutes at the beginning of each brewing process. This allows the machine to brew 10 cups of full-bodied and great tasting coffee.
Furthermore, this machine does not need a warming plate to ensure that your coffee stays hot after the brewing process is completed. Coffee is brewed into a 10-cup double walled insulated thermal carafe.
The carafe keeps the coffee sealed, locks its flavor and aroma inside, and minimizes its exposure to the external air to prevent any heat loss.
The thermal carafe is able to keep the coffee hot for hours without the need for an external heat source. There is no danger of having "overcooked coffee", which is often caused by a carafe that has been sitting on a warming plate to keep coffee hot.
In other words, the 10th cup is as hot as the 1st cup without the burnt taste hours after it has been brewed.
Therefore, if you're looking for a 10-cup programmable coffee maker that comes with a thermal carafe, then consider the Krups 199-7D Aroma Control 10-cup Programmable Thermal Coffee Maker.
Although it is quite expensive at around $140, it is built to last for years and will eventually pay for itself in the long run.