Klix is really about the Variety
The Klix Vending Machines are created by Mars Drinks, the drinks department of Mars Inc.
They are designed to add reassurance of built in quality and service support. The stylish and slim-line design of the vending machines makes it look smart anywhere you want to place it.
These types of vending machines are very attractive. They possess a stunning appearance they even get the attention of passers. Other characteristics they possess are reliability and practicality.
Their compact design makes them suitable to be placed on smaller office. However, there are bigger designs also suitable for greater number of people.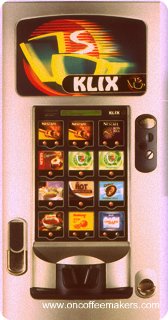 In addition, this vending machine manufacturer provides a seal to their vending machines. With the perfect seal, the freshness of the beverages inside is preserved.
This gives you the delicious drink you are looking for. In addition, they are adding extra ingredients to the blends to give you more delicious and savoring drink.
What makes this company very unique is the flavor of every drink that they formulated. This is because the right amount from different leading brands of drinks.
After getting the right amount, they pour them in the cup and seal them tightly. But before that, an additional flavor such as croutons or pasta in soup is added to enhance the flavor of the beverage.
There are different types of vending machines under this type that you can choose from. Some of these are the Klix 400, 450, 600, 900, 950, 1200, 1250 and Outlook. All of these are available in different designs.
With these several choices, one can really pick a vending machine that suits his/her preference. The fact that it does not look attractive only but it also functions at full operations.
Each model has its own specific characteristic that may be absent from the other types. But in general, they all operate at the same rate.
This coffee vending machine offers different flavors also where one can choose a flavor of the drink according to his taste.
No matter what type of beverage you are looking for, the vending machines may have it for you. Some of what it offers is coffee, tea of different flavors, hot chocolate drink, cappuccino and other drinks.
Like the flavia coffee machine, this is available in the market at a reasonable price. There are those that allow renting of the machined, leasing and selling it.
There are also those that offers loan to the vending machine in case that you are broke but you still want to buy the vending machine.
A product with several varieties is very more advantageous in today's market place.
This is because consumers are looking for tools that do not offer only one service or one type of beverages in the case of vending machines. Generally, consumers appreciate tools that offer different preferences.
Klix does not only offer different types of models, but it offers varieties of flavors and types of beverages as well.
This gave the machine an edge over the others. Truly, it is an all-in-one vending machine.
If you are not looking for klix or any coffee vending machines, check out our home page and see if we have what you are looking for.