Kitchen aid coffee maker is so durable that they allows you to change anytime!
This is kitchen aid coffee maker KPES100PM, the "Pro line series" espresso machine. Well known for their outstanding performance and great "looks", now we know that they are very durable.
Sure, you can warranties for any types of appliances that your purchased. But, for this Kitchen aid coffee maker, they went one step further and offers you a 2 years hassle free replacement warranty.
Imagine, changing a new set Kitchen aid KPES100PM if at any time it breaks down. However, this espresso machine does not break down so easily, so what is the one thing that I would raved about if I would to purchased a KPES100PM?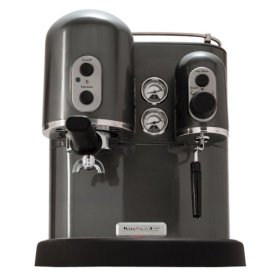 To me, it would be the "look and feel" of this "pro-line series" espresso machine, I love the look of it, especially the pearl metallic ones. However, highlighting that would be doing injustice to this Kitchen aid coffee maker.
The whole idea of coffee making or good coffee brewing is to get the optimal temperature and for espresso, it is at 220 F. But, with a single boiler, you wait while you switch tasks and sometimes suffers some heat loss in the process.
Kitchen aid KPES100PM with its dual boilers mitigate the need to wait while switching tasks, ensuring the optimal brewing temperature and of course abundant steam for your cappuccino froth. Oh, the chromed-plated brew group plays a part for the exceptional temperature stability.
If you "played" around with espresso machine for a while, you would know that there is always some mess when the portafilter is removed and out come a messy spray of coffee grounds. This is mitigated in this kitchaid espresso machine, with the 3-way solenoid valve that instantly vents pressure after brewing.
What about the pressure? Kitchenaid KPES100PM comes with a self-priming water pump that delivers 15 bars of pressure, more than the 9 that is required for a good espresso extraction. So, espresso quality wise, you can be assured.
The last thing that I think is worth a mention is the dial gauges. Instead of flashing indicator lights, this kitchen aid coffee maker espresso machine has dial gauges that provides a continuous readout of boiler temperatures.
Even as I am concluding this article, and you are thinking why Kitchenaid is so good to have a hassle free exchange of their espresso machine, it is because of their belief.
Not only do they have great confidence in their craftsmanship, the quality of the die-cast metal construction also ensures the lifespan of this kitchen aid coffee machine...


Not decided, want to look at other coffee makers?