The keurig coffee brewer that is only meant for one






This is a keurig coffee brewer which despite the price, is one coffee maker that I did not really recommend it. This is because it is really single serving, this keurig coffee maker entire set up is meant to serve only one cup of coffee.
While, other
keurig coffee brewer
serves one cup of coffee, their have a water tank capacity a few more cups of coffee before you need to refill the water tank. In fact, most
single serve coffee maker
allows you to serve at least 5 cups before refilling.
But not the keurig mini brewer. Retailing at $79, it is the lowest in terms of price for the entire keurig coffee maker range, however, it can only brew a 8 ounce coffee at any one time.
Then again, this coffee maker is not designed to be your usual home brewer, it was designed to be mobile, for the folks that would bring it wherever they go. The keurig folks wanted it to be so mobile, that they even designed a tote bag so that you can carry it around easily.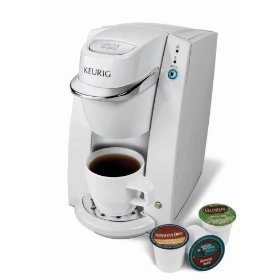 Size and weight is the major value add for this coffee brewer, at about 7 lb or 3.5 kg, when it is empty is about the same weight as my very old laptop. And the size is about 11 inches wide, not that different from a laptop.
Think of it as a laptop that you can easily bring around to brew you coffee shop quality coffee. But, keurig coffee brewer always over delivers, and in this case, there are a few value add which I find is very appropriate.
I am a person that goes for the look and feel of a machines, and I think the choices of colors which they are offering is a good thing as the targeted group of consumers for this machine would likely be the ladies and some colors would really appeal to them.
And even though it is small, this keurig mini brewer operationally is still able to deliver better than most drip coffee maker and would definitely beat all 12 v coffee maker hands down.
In the industry, the most common grouse about 12 volts coffee maker is the long time that it would take for the water to be hot. But, for this keurig mini brewer, all it takes is just 3 minutes to heat up a 8 ounces water for your coffee.
So, if you are someone that is looking for something portable yet operationally is easily to handle, then this keurig coffee brewer would be that coffee maker. Otherwise, I would still think the b40 is a better single serve machine. Check out the keurig b40 here: Keurig Single-Cup Brewing System #B40