An Espresso Coffee and Cappuccino Machine from Capresso



The Capresso Espresso Coffee and Cappuccino Machine 303.01 is a cost-effective solution for those who don't want to shell out a considerable amount of money just to own an espresso coffee machine at their own homes.
This coffee machine is very affordable, since it costs just around $50.
While high quality commercial cappuccino machines and espresso coffee machines and even those made for home use are much more expensive, the Capresso Espresso Cappuccino Machine 303.01 is able to make decent coffee, espresso, and cappuccino.
This espresso coffee and cappuccino machine is very attractive and very compact. It has a very sleek design and measures 9.75 inches high, 7.5 inches wide, and 13.25 inches deep.
---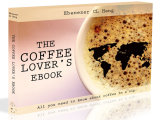 Love coffee? Here is some more "free stuff"! Learn more with this ebook (is free!)



---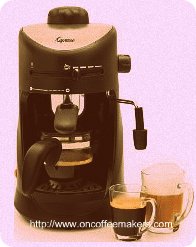 This unit runs on an 800 watt power output and is driven by steam. It is able to bring water up to the desired temperature for brewing and steaming in a short amount of time, and thus it is able to make up to 4 cups of cappuccino or lattes in less than 5 minutes. Coffee is brewed onto a 4 cup glass carafe.
The unit has a convenient and innovative coffee/steam selector, which allows its user to select between brewing coffee and producing steam for frothing milk.
It also allows its user to adjust the strength of the coffee. It also comes with a milk frother for making cappuccinos and lattes, and the steam output can be adjusted to match the amount of milk to be frothed.
Its frothing capabilities are comparable to other cappuccino makers, since it is able to generate steam for frothing in a matter of seconds.
The Capresso Espresso Cappuccino Machine 303.01 also includes a safety cap for the boiler with a built-in valve, an illuminated on/off indicator, a filter holder with a convenient and protective thumb guard, and a removable drip tray.
Its glass carafe has a heat resistant handle and drip free spout, making it easy to handle when serving and pouring. In addition, the glass carafe is dishwasher safe, making it easy to clean.
Although espresso enthusiasts would scoff at this espresso coffee and cappuccino machine, since it is not able to deliver a cup of full bodied espresso like a pump driven espresso maker, the Capresso Espresso Cappuccino Machine is good for those looking for an affordable machine to start with.
And for a machine that costs $50, this is a pretty decent home coffee espresso and cappuccino machine.
Need more information about finding best coffee machines?Or do you need some information about coffee pot, click this link to go to our home page (where there are plenty more information on coffee brewing devices