Presto Electric Coffee Percolator



Sure, electric coffee percolator came out just recently, but this brewing has been around for about 100 years. Since the 19th century, coffee percolators are being used to make coffee.
These coffee percolators brew coffee by using the basic principles of coffee extraction, in which as the water rises in temperature, it is driven up and mixes with coffee grounds to extract the flavor of the coffee.
Despite that modern electric coffee makers are easier to use, a lot of people are still using stovetop coffee percolators and electric percolators, such as Farberware percolators and the Presto Percolator coffee maker.
The Presto Electric Coffee Percolator is a 500 watt stainless steel electric percolator. It brews from 2 to 6 cups of coffee, which is ideal for home use.
---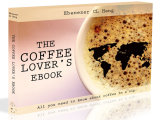 Love coffee? Here is some more "free stuff"! Learn more with this ebook (is free!)



---

It brews coffee using the same principles as stovetop percolators, in which it heats up water and the hot water circulates up into the coffee chamber.
The hot water then extracts the essential oils, aroma, and flavor of the coffee while making the familiar percolating sound. What trickles down from the coffee chamber is the flavorful and aromatic substance we all know as coffee.
However, since this is an electric percolator, it has its own heat source. Instead of placing it on top of a heat source, such as a stove, you only need to plug it into an outlet. The Presto Electric Coffee Percolator combines modern technology with the elegant and classic look of a stainless steel coffee percolator.
It has a ready-to-serve light indicator, which automatically lights up when the coffee has finished brewing and ready to be consumed. Furthermore, it has a heat resistant knob and handle, allowing for easy handling when serving and pouring.
It has a heat resistant base as well that allows the Presto Electric Coffee Percolator to sit on any surface without causing any damage due to the heat it generates.
Moreover, it also has an automatic keep warm mode, which allows it to keep the coffee at the optimal serving temperature after it has finished brewing. Finally, to make serving easier, its electric cord is detachable.
The Presto Percolator is very easy to use and handle. Most importantly, it makes great coffee. If you love old fashioned perked coffee, you will definitely love this elegant electric percolator.
Or, if you're looking for a low-cost coffee maker that costs just $40 that you can use to impress your house guests, the Presto Coffee Percolator is the one for you.