Ecopads for philips senseo are good for coffee experience



Ecopads for philips senseo and meant for the senseo coffee maker is the solution to the complaints from consumers about the single serve coffee maker closed system.
First, this "opens up" the closed system that the coffee pods market is in. To better under the ecopads for philips, we need to know what are coffee pods.
What Are Coffee Pods?
Coffee pods are small packs of pre-measured coffee grounds. The pack itself serves as the coffee filter.
To use it, simply insert it into a single serve coffee maker, and press the brew button. The pod will be saturated with hot water.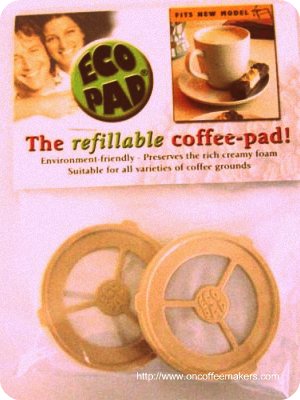 While the hot water starts extracting the flavor from the grinds, the pack keeps the coffee grounds from finding its way into the cup. In other words, using a coffee pod makes coffee brewing easier and quicker.
It eliminates other tasks that are usually associated with coffee brewing, such as measuring, grinding, and using coffee filters.
And since the machine is only brewing for one cup, the brewing time is pretty quick, which is around less than a minute per cup of coffee.
Once the brewing process is done, simply remove the used coffee pod from the machine. The machine is ready to brew another cup.
Coffee Pods and Ecopads
Apart from making the whole coffee experience easier and more convenient, ecopads added in variety. Ad mentioned earlier, in the past, coffee pods functioned as a closed system, that means you are not able to use any other coffee.
But with ecopads for philips senseo, you can use any coffee blends you like. This is a bold step considering that Douwe Egberts the coffee roaster that is behind the producion of coffee pads for senseo coffee maker.
This is because this ecopads from philip would meant allowing consumers to choose their coffee blend other than senseo and this might mean not purchasing douwe egberts coffee...