What Are Coffee Percolators Anyway?
Coffee percolator is one type of pot that is used to brew coffee.
This pot is popular to outdoorsmen and campers because of its ability to create coffee with no electricity.
The very first percolator was invented in the year 1819 by Parisian metal smith. This Parisian is historically known as Laurens.
After percolator, vacuum pot also was invented and it worked like percolators. This vacuum pot was developed in the year 1940 by James Napier of England.
Moreover, the very first percolator in America was made in year 1865 by James Mason. This percolator has similarities with the original percolator. They are similar on how it works and on other matter.
---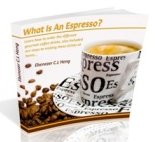 Sorry, this free ebook would not be able to tell you if a solis espresso machine is better than a wega espresso machine. (This is actually the job of this site)
But, it would be able to teach you how to differentiate between the different espresso drinks so that you know what you are drinking the next time you placed an order in a cafe
---

Over the years, coffee percolator was modified and perfected by many coffee machine manufacturers. The very first drip coffee maker was called the "Mr. Coffee" and it was introduced in year 1972.
This coffee machine was designed by Vince Marotta. From then on, Mr. Coffee became the most popular drip coffee machine in the US.
It was not that long enough that percolators were replaced by automatic drip coffee machines. The principle behind the machines was based on the principle of percolators. However, some of them were revised and perfected.
Percolators are made up of a metal pot, a lid, a filter basket, and a hollow metal tube that passes through the bottom of pot and extends up until it reaches the top. When the pot is filled with water, the filter must be packed with coffee grounds, and place the lid after. This pot works in a very simple manner.
When the water is being heated, the water is sucked up and passes through the tube and goes all the way through the filter basket. Then the water drips back down into the pot.
This process is being repeated until all the coffee grounds are brewed. The three versions of coffee percolators are: stovetop percolator, electric percolator, and microwave percolators. These three versions have some advantages and disadvantages to offer.
In addition, these three has also features that are different from each other.
Until now coffee percolators are still used by other people because of unique quality and rich flavor of the coffee it produces.
The brewing method allows them to have a great coffee that they'll surely enjoy. So, if you want to have a high quality then having a percolator is a must for you. Lots of coffee machine manufacturers exist and created different models of coffee makers.
Each of these coffee makers has its own features that people are looking for.
Percolators are really loved by people because of its brewing method, it is easy to use, and it is convenient.
So, when you are a person who loves to camp then percolators might be the right pot for you to have.
If you are just looking for a simple drip coffee maker, and want to read more about it, head over to our homepage where there are thousands of article and coffee maker reviews for you to read.