What is the Primary Thing Coffee Drinkers Are Looking for in a Coffee Maker?



Why do coffee drinkers buy coffee makers? Obviously, they want to be able to brew coffee in the relative comfort of their own homes.
While this may be the case, surprisingly, getting great coffee is not the primary thing most coffee lovers are looking for when it comes to coffee makers.
Instead, their primary concern is more focused on the price of the coffee maker, rather than its ability to brew great coffee. This is a valid concern, since realistically speaking, high quality coffee makers usually cost quite a bit of money.
Not all coffee drinkers can afford to buy a high-cost coffee maker, a high quality coffee grinder, and a constant supply of the best gourmet coffee beans.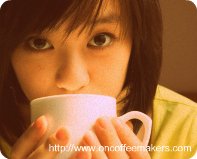 Furthermore, most drinkers aren't coffee connoisseurs, whose primary concern is to consume the best-tasting coffee known to mankind.
Having a coffee maker at home surely beats having to depend on a coffee vending machine or the local coffee shop for a daily fix of caffeine.
However, when buying a coffee maker, you shouldn't just look at the price of the machine.
Here is a practical buying guide that gives helpful tips that can help you find not just a low-cost coffee maker, but a great value coffee maker that can give you the best coffee experience possible.