This cappuccino coffee maker mr yakun has cannot be purchased!



Why look for a cappuccino coffee maker mr yakun has? In fact, who is Mr Yakun? Well, for most of us living in the west, coffee maker is the only way to get a good brew of coffee. Although, some of us might drink regularly from coffee vending machines, it is in a nutshell still a machine.
In the east, and particularly in South East Asia, the majority of folks does not drink coffee from any machines, the only piece of equipment that they need and use is this thing known as coffee socks.
Not known as cappuccino in the east (frothy coffee is known as kopi tarik) the coffee with the milk and froth does resembles the gourmet milk coffee that we are used to seeing. However, this is not the cappuccino coffee maker mr yakun has.
In the first place, who is this Mr Yakun, and why am I using his name. Yakun is a very big coffee chain in south east Asia with outlets in Singapore, Malaysia and Indonesia. In fact, its outlets might be as populous as Starbucks.
Of course, he is well know for selling the traditional coffee and his staff also does very good kopi tarik, but unfortunately, because it is done using coffee socks and manpower, there is simply no way you can replicate it at home.
This is the thing about Small medium enterprise in Asia, they are not as organized as the MNC in the west. If you would like to brew starbucks quality coffee, you can perhaps enrolled in some barista school and with practice, you can brew similar standard.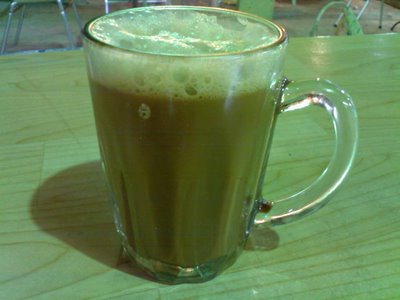 But, for this yakun style coffee. There is no such courses, and while they do sell their coffee that is ground for you, I can assure you that what you are going to brew would be different from what you have in their shop.
But, this might be the reason why you want to have it in his shop right? It is precisely you cannot own the cappuccino coffee maker mr yakun has, the skill and expertise of his staff that you would pay to have a cup in his shop.
Now, for such an exclusive drink which you cannot replicate at home, you would expect it to be costly, maybe slightly cheaper than kopi luwak. However, this coffee is not only reasonable, it is dirt cheap!
A long black from Starbucks cost about $3.50 depending on the location you are drinking it, but a kopi tarik from yakun only cost you $0.80. And, let me assure you that this has nothing to do with the standard of living, because Singapore is an expensive place with high standard of living.
Ambience wise, Yakun outlets has a zen like theme and while it is not as comfortable as starbucks outlets, it is pleasant to have coffee there.
Sure, this is an article about a cappuccino coffee maker mr yakun is using that cannot be purchased, however, the next time you drop by this region, do try out his interesting cappuccino from his many outlets in this region, just asked anyone about yakun and they point you to the nearest one.