Why burr grinders?



So, why burr grinders? It is really better than blade coffee grinders? And among the burr grinders, is there a better one?
Another question might be: just how imporant is a coffee grinder?
Well, coffee grinders are as indispensable as the coffee machine to many coffee purists.
A cup of coffee made with pre-grinded coffee just doesn't taste as great as coffee made from fresh grinds. In a nutshell, coffee taste better and fresher when you grind and brew.
Now, lets answer the question on why burr coffee grinder is better than blade type. The latter produces uneven and inconsistent grind and produces more heat leading to a loss of flavor.
---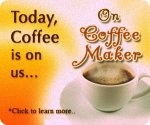 I guess with the money we give you, you probably cannot buy coffee wholesale, but it is enough for a good cup of coffee.


And you can buy any types of coffee you like. If this sounds interesting, click on the link to see how to get it

---

Of course, for those that knows about coffee, inconsistency in coffee grounds leads to over or under saturated coffee which means bad coffee. That solves the why burr grinders.
That is the reason why burr grinders are considered the best type of grinder. This is because burr grinders give a much finer grind than any other grinder since it crushes the coffee beans.
Then Burr grinders come in two kinds - conical burr grinders and wheel burr grinders. So, is the conical better than the wheel burr?
Conical burr grinders spin at a slower pace, usually 500 rpm, over a large cutting surface. The slower pace allows the grinder to make the coffee beans into very fine, even, and consistent grinds, which is why many prefer conical burr grinders over wheel grinders.
Another common questions is: is built in grinder better or worse than stand along coffee grinders?
Some coffee machines have incorporated a grinder in their system, eliminating the need for a separate grinder.
As convenient as this may be, the built in grinder can never make as fine a grind as a separate grinder can, even if the built in grinder is a burr grinder.
And if this article spark your interest in looking for a coffee grinder, do note that grinders in general can be very expensive and may even cost more than your coffee machine.
Along the "cheaper" price range of $200 and under, the three favorite conical burr grinders of all time are Kitchenaid pro line grinder, Capresso burr grinder select, and Solis Maestro coffee grinder. check out the link to learn more about coffee grinders!