Why Vacuum coffee Pots are Important?



Vacuum coffee pots appeal to most people, but especially for those that brew a full pot of coffee. If you are using a drip coffee maker to make coffee, then most likely, you are brewing a full pot of coffee.
One of the problems when making a pot of coffee is that if you brew too much, and you leave it alone for too long, it will eventually get cold.
And cold coffee is wasted coffee. One solution to this problem is to use a warming plate, which is a feature in most coffee makers. However, if you leave a pot of coffee on a warming plate for too long, the coffee will get scorched. The coffee is still hot, but it now has a burnt taste.
On the other hand, there is another solution to keep coffee hot, without the risk of burning it. This is where vacuum coffee pots come in. Vacuum coffee pots can keep coffee hot for hours, without the need for an external heat source, such as a warming plate.
---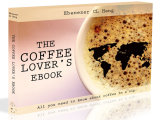 Love coffee? Here is some more "free stuff"! Learn more with this ebook (is free!)



---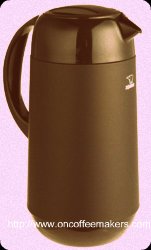 How do vacuum coffee pots work? Vacuum pots prevent the interior temperature from changing drastically by using insulation, the same principle used by thermos jugs.
Therefore, a vacuum pot can preserve the coffee's temperature, aroma, and taste for hours. In fact, put an ice cube into a vacuum pot in the evening before you sleep. When you wake up in the morning, the ice cube will still be there, along with some water.
Fortunately, there are coffee machines that come with their own vacuum pots, or thermal carafes. These coffee machines do not have warming plates since those are not needed anymore to keep the coffee hot.
Zojirushi, for instance, which is known for its vacuum pots, has also developed a coffee maker that makes use of a thermal carafe. It's the Zojirushi EC-BD 15, a 10 cup coffee machine. Another example of a coffee maker that makes use of a thermal carafe is the Cuisinart Compact Coffee Maker, which is also a 10 cup coffee maker. These are other coffee makers that use thermal carafes. These two are just a couple of examples that have garnered praises from various coffee maker reviews.
If you're not willing to buy a new coffee maker, you can still take full advantage of a vacuum coffee pot or a thermal carafe. Just buy one that has the same or more than the capacity of your current coffee maker.
After you have brewed a fresh pot of coffee, just transfer the coffee from your glass carafe to your thermal carafe. The thermal carafe will keep the coffee hot for you, and you don't have to use the warming plate of your coffee maker anymore. In addition, you won't be handling your glass carafe as much anymore, reducing the risks of breaking it. Vacuum pots and thermal carafes are made of stainless steel, which makes them more durable and are definitely not as delicate as glass carafes.
Therefore, if you're looking for a way to keep your coffee hot without affecting its aroma and taste, using a vacuum coffee pot or thermal carafe is the best alternative. You won't be wasting coffee anymore when you use one.