Tassimo Review On Two Tassimo Machines
This tassimo review on only two tassimo machine, mainly because they are only two different models!
Tassimo coffeemakers are among the coffee machines that stood up and got the highest review.
It opens the door for the customers to know more about them. With this, people gain a lot of information about the Tassimo coffee makers.
Coffee makers by Tassimo make a big difference to the living of those who uses them. They were able to offer a lot of good things.
They were able to make the making of coffee very easy and quickly. They were much known because of the T disc that they use to brew coffee.
---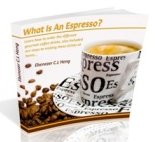 This free ebook "What is an espresso", is for you to get to know espresso drinks better.
No, you would not know how to operate a gaggia classic espresso machine after reading, but you would at least know the difference between a latte and a cappuccino...



---

Let us have a Tassimo review on two coffee makers that Tassimo has: the LCD Premium T65 Home brewing system and the Bosch T20 home brewing system.
LCD Premium T65 Home Brewing System
This coffee maker is not just a coffee maker. It is a coffee maker that offers a new and innovative way of preparing your favorite coffee.
This coffee machine has some features that is really helpful, features that people will surely enjoy.
When talking about convenience, this coffee maker can give you that. It has a multilingual LCD display.
This display will help the user to easily understand the instructions in different languages. So, whether you are French or English, there's no need to get that translator book.
Another feature of this coffee maker is its strength selector. With this feature, you will be able to customize the flavor of your coffee that suits your taste.
Whether you are into strong or mild flavor, you can have it with this coffee maker.
Other features of LCD Premium T65 Home Brewing System include: 67 ounce water tank that is removable, 2 MAVEA water filters, easy to clean, and easy to use.
The most highlight of this coffee machine is its price. You can buy it in $199.99. The price is quite affordable. You can buy this coffee maker in an online or offline store.
Bosch T20 Home Brewing System
Another Tassimo review that we are going to tackle is Bosch T20 Home Brewing System is a single serve coffee maker that also uses T disc in brewing coffee.
It can make different varieties of drinks like cappuccino, tea, coffee, espresso, crema, and hot chocolate.
This coffee maker has a water tank that can handle up to 1.5 liter of water, which means that you do not have to refill the tank constantly.
Bosch T20 Home Brewing System goes into its standby mode when not in use. This means that you can make your tea because the water inside keeps its temperature.
It has an on/off switch. The custom brew strength feature also allows you to modify the strength of your coffee, be it mild or strong.
Other features of this coffee machine includes a removable drip tray, has 2 advance Mavea water filters, and a safety compartment for the manual and cord.
Some of the parts are removable for ease of cleaning and they are also dishwasher safe.
The price of this coffee machine when compared to LCD Premium T65 Home Brewing System is a little bit cheaper. It has a price amounting of $129.99.
You can also purchase this machine in an offline or online appliance store.
The Tassimo review on two the coffee makers created by Tassimo might help you which one would be the best to buy.
Whether you will go for LCD Premium T65 Home Brewing System or Bosch T20 Home Brewing System it is up to you.
Not tassimo review? Maybe you want to know more about tassimo t discs before deciding or maybe you want to compare it with say nespresso coffee maker, check out all these information and more on our homepage