Soho7 cafe grabs attention with the stab of a steely knife
Soho7 cafe is in the unqiue cafe series, so we are talking about how different it is. But before that, because most of us that read this are coffee lover -do you know that they roast their beans every few days to ensure its freshness.
While, this might be a given or norm in most high street cafes around the world, in Singapore, this is definitely unique and rare.
Located in 36 Armenian Street, it is not exactly an easy place to find, unless of course you are in SMU and hangs around there most days.
But they do pretty decent business, and you wonder why people are going there...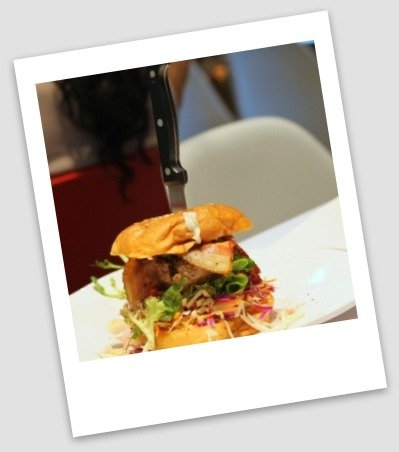 ---
Why do you want to go to SoHo7 cafe?
We are pretty sure that some folks are followers of its coffee that are fresh (roasted every few days), and hand crafted.
In addition, it is about a dollar cheaper than the coffee chains that are surrounding it.
But, that is not the stuff that make it unique. The knife is what make it stand out from the crowd.
A knife stab right into a burger that is aptly termed -Soho7 best ever burger. Best ever seems to link this burger to Mount EVer and from the look of it, it is not too far from that!
No, we are not going to talk about the food because we need to keep to our credo of unique cafe of talking about everything other than food and coffee, but allow us to slip in this -the food is good!
The knife is what attracts us, but the mood here is anything but cold. It is bubbly, friendly and make one feels very welcome.
Maybe it is because we are old folks amongst all these younglings, but the energy is infectious. We like the youthful feeling here.
So, why come here? If you want to feel like a young person, this is the place to come. Probably it is because it is so near to SMU (Singapore Management University).
---
When is the best time to come
We highly recomend morning. That is when the energy is the highest and the coffee smell can really perk you up.
To enjoy this place uniqueness of youthful energy, check out the breakfast and coffee in the morning, and it should leave you with a positive energy enough to take what comes your way throughout the day.
By the way, even if you come in the afternoon, you can also eat the breakfast that is on for the whole day. That can qualify as another unique point, don't you agree?
Hope you like this short introduction, and if you know of any unique cafe such as this soho7 cafe, share with us and our readers by following the link. We too, would share with you some "nice stuff".
---