Single Cup Coffee Filter Make Them Even More Popular!
Keurig single serve coffee machine that uses single cup coffee filter is very popular all over the world.
This is because of its wonderful and interesting features. This coffee maker is not only recommended for kitchen use but they are also ideal for office use.
But isn't it's much better if your coffee machine will use the Keurig My K cup coffee filter? Why?
My K cup coffee filter is known to be reusable and this is exclusively for Keurig Home Brewing System only.
Like the other coffee filters, this filter also has its own unique features. Features that really make this coffee maker become popular.
---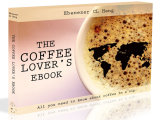 Love coffee? Here is some more "free stuff"! Learn more with this ebook (is free!)



---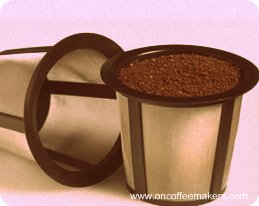 The reusable My K cup coffee filter or single cup coffee filter is made up of mesh metal filter and it has a durable plastic framing.
It is also capable of holding up to 2 tablespoons of different varieties of coffee grounds.
With the use of this reusable k cup filter, you are able to drink the coffee flavor that you prefer. This is because this reusable filter allows you to use your own coffee grounds.
?**This is the crust folks! With the MY K cup, you are able to brew any coffee you like from keurig...
Whether you like to drink French vanilla coffee or chocolate coffee flavor, you can definitely get them. All you have to do is to pour that coffee grounds on the filter and let the coffee machine do the rest.
This filter works on some models of Keurig coffee maker. These models include the Elite B40, the Ultra B50, and the Special Edition B60.
However, there are also some Keurig coffee brewer that is not capable of using this reusable coffee filter. The filter does not fit on B100, B100P, and B2000/3 Keurig home coffee brewers.
Before using this single cup coffee filter, you must have to remove first the black plastic k cup holder that can be seen in the coffee maker's filter assembly.
You also have to wash and rinse the reusable coffee filter with running tap water every after use. It will only take you a few minutes to clean this filter. With this, you can avoid the filter from rusting.
You can purchase this reusable single cup coffee filter in your local appliance store or even in online stores. Amazon.com and eBay.com is among the good online stores where you can purchase this coffee filter.
With the use of this reusable single serve coffee filter, you can save a lot of money. You can also use the varieties of coffee grounds that you want. this filter is ideal to those who prefer to drink coffee with different flavors.
Maybe you want to look at other single serving coffee maker before deciding or you might want to compare coffee makers, check out our homepage on how we can value add