Semi Automatic Espresso Machine by Capresso
You might be thinking what is a semi automatic espresso machine, or what is the different between that and a fully automatic, this is one of the consideration factors.
Before buying a coffee machine, there are lots of things to consider.
If you have plan in getting an automatic espresso machine then you have to choose from these two options: the semi automatic coffee/espresso machine or the fully automatic coffee/espresso machine.
However, what are the differences of these two automatic machines?
---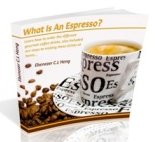 This free ebook "what is an espresso", would allow you to know your espresso drinks better.
Whether it would lead you to finding that best espresso machine, I do not know, but you would definitely know how to differentiate the various espresso drinks



---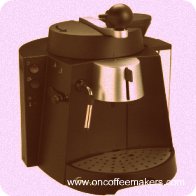 Listed down is the difference between the two Automatic espresso machines:
Semi Automatic Coffee/Espresso Machine
1. It requires a little effort coming from the user.
2. The machine needs to be turned off every after use.
3. They are far cheaper than fully automatic coffee machines.
4. It has a price of not less than $150.

Fully Automatic Coffee/Espresso Machine
1. It does not need the help of the user for it to operate.
2. It has an automated temperature controls and a pump.
3. You can program the machine.
4. It has a built-in grinder.
5. It has a grind, tamp, dose, and eject buttons.
6. The machine is expensive.

One good example of semi automatic espresso machine is the Capresso 121.01 Ultima semi-automatic coffee and espresso machine.
This coffee machine can brew espresso or coffee from 1.5 ounce to 12 ounce. The brewing will only take a few seconds.
This coffee machine has a water tank that is removable. The removable water tank can handle up to 53 ounce of water. With this, there's no need for you to refill the water tank constantly.
When it comes to creating cappuccinos and lattes, you can guarantee that you get the best out of it.
This is because it has a steaming wand that froths the milk for these coffee varieties. The drinks that you get are surely flavorful and delicious.
This machine is powered by 1500 watts heating coil. With the help of the thermostat light, it will signal the user if the water is in its hottest temperature. With this, you can now able to make tea, soup, or instant noodles by the use of the hot water.
When it comes to the mess and the cleaning up, this coffee machine does not give you that issue.
This is because it automatically tamps the coffee grounds and will then automatically discard them afterwards. With this, you don't have to spend a lot of time cleaning coffee grounds on the table and etc.
Other features of Capresso 121.01 Ultima semi-automatic coffee and espresso machine include: a double brewing spout, powerful pump, and cord storage or compartment for safety precautions.
So if you are looking for an espresso machine that is semi automatic, then Capresso 121.01 Ultima semi automatic espresso machine would be best.
No, not looking for a semi automatic espresso machine? Maybe you want to read about tassimo review, or maybe any coffeemakers review, then do check out our homepage for more information