Seattle Coffee Gear, Is Cheaper Than the Principal?



The Seattle Coffee Gear Company is the kind of company that offers well-informed, expert advice on everything from the most excellent machine to how you can create that mouth-watering and delectable espresso on your own.
Equipped with the remarkable mission which is to present unprejudiced and customer-centric service by a team who has passion for what they do.
The company ensures that you acquire the machine that is right for you, that is why they present the coffee machines information in a non-commissioned, low-pressure sales manner.
The main differentiators about this site is its after sales services.
---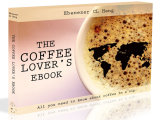 Love coffee? Here is some more "free stuff"! Learn more with this ebook (is free!)



---

Consumers appreciate the wide range of repair services that SCG offers, it gives them the peace of mind knowing that there is someone to turn to if their machines would to break down.
And for brands like Saeco and Starbucks coffee machines, Seattle Coffee Gear is the approved warranty repair center for.
But for most consumers, price is still the main issue right? And at SCG, their pricing is favorable.
When it comes to pricing of espresso machines, Seattle Coffee Gear website have a slew of great deals available.
They have a variety of high quality coffee machines with an affordable price.
For instance, if you purchased Mypressi Twist portable espresso maker at Seattle Coffee Gear website, you can have the price of this unit at about $149. If you purchase it at Mypressi Twist website, the price of this portable espresso maker is about $169.You get a discount at exactly $20 from SCG website.
In summary, this shop seems to have discount better than the principal itself.
It could be promotions or bulk discount or even loss leader, but this is an example of good pricing from this site.
But, there are restrictions. For example, this site does not ship to every location, definitely not Singapore.
So, for singapore mypressi twist fans, you would not enjoy this pricing (but it would be high after factoring in shipping costs and exchange rate).
However, we have worked with a local distributor to get some limited sets to our readers, fill up the form below to reserved.






---