Salton coffee maker allows you to brew using a laptop!



Salton coffee maker is a leading designer, maker and even distributor of many branded coffee machines. But, this would hardly make a difference to you until you know of the technology that it has invested into their brewer.
One of the more popular salton coffee maker is the Me1MSB 10 cup. It is a wholesome 10-cup programmable coffee maker that produces a very fresh cup of coffee with a press of button. All the way from grinding to brewing, you cannot get any fresher than that.
Simplicity and ease of use are among the tag lines used in their marketing pamphlets to attract consumers in getting this machine. And it is really easy to use. All one need to do is to add in water and beans, choose the grind selection then brew it.
Of course, other than ease of use, it also has many other features like the popular brew-pause that allows one to "steal" some coffee while it is still brewing, an automatic reset and a long lasting stainless steel filter basket.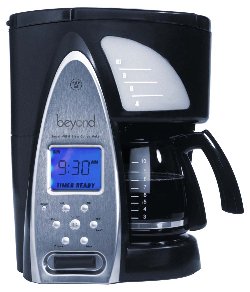 But, if you have read through my articles and many other online, the features are no different from the Bunn or Mr coffee line of products. So, what it is that makes the salton coffee maker so special?
That would be its patented technology known as ICEBOX. It allows you to program your programmable coffee maker to brew at a time during weekdays and another time during weekends, all from your laptop or PC with an internet connection of course.
In fact, it is so connected that you can even set a low water alert, so that you would be prompt when the water level in the tank gets low. This ICEBOX is a control center designed specifically for the kitchen.
Now, before it becomes very confusing, do note that the ICEBOX would not allow your ME1MSB to be able to program it from any web browser or the ICEBOX. It has to be the coffee maker that comes link to the ICEBOX which salton is currently marketing under the westinghouse brand name.
You have to add in the beyond module in order to enjoy the connectivity given by the ICEBOX. And of course, this has to be done with some additional purchase, but to some of us, it might be well worth it.
This might not be huge value add for some people that this is what allows you to "save some time". How many minutes do you need to set and re-set the programmable timer on your coffee maker?
Well, now you can do all of it in your workplace and really spend time at home relaxing with your love ones. Now, there is still a limit to the items that the salton coffee maker is able to do while using the internet, but I believe as time goes by, it might even be able to choose a recipe and brew your favorite coffee just with a click of the mouse!