Programmable coffee maker is not good if...



Well, programmable coffee maker would not be good if you are staying alone, do not like to do cleaning and well, is very space starved.
This is because no matter which programmable coffee maker you are going to get, it would brew more than one cup, you need to flush and clean it frequently and it is usually quite bulky.
So, if you fit the bill highlighted above, personally we think Single serve coffee maker might suit you better. But, if you are still interested in coffee maker that is programmable, do read on.
For this article, we would look at Oster/Sunbeam HDX23 Programmable Coffee Maker. If you did not heard of this coffee maker before, do not fret, I am simply bored of talking about Bunn, Mr Coffee or Braun, the "big brands" coffee makers.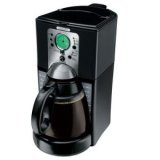 **Just in case, you are one of those that asked if any other brands can brew good coffee, we are inviting you to join our free coffee course to learn more about brewing good coffee..
It is refreshing to talk about a brand that is not as often highlighted but still does very good coffee. In fact, some of the features that Oster/SUnbeam has, is not even available in the "big brands" models.
Oster/Sunbeam has the usual like convenient programmable option, it pours well with its no drip function, the "look and feel" is good. One of the feature which we think is pretty cool is the display of how long the coffee has been waiting, known as te Fresh Brew timer.
This timer shows you how fresh this coffee is, an element that is important to any coffee lovers, nobody likes cold or bitter coffee.
Then, their adjustable temperature warmer plate control is another factor that would better your coffee experience. Knowing how long the coffee is waiting, would warn you to adjust the warmer plate accordingly so that the coffee would not be burn.
Long consistent temperature is usually the culprit behind burnt coffee. So, managing of these 2 variables would ensure a hot yet fresh cup of coffee.
Still on good coffee, oster/sunbeam brew strength selector is also another variable to assist one to get good coffee. This is a feature although common, is not found in models below $80.
Price is another draw for people that love good coffee but cannot afford to invest too much money on them. At approximately $60, Oster/Sunbeam HDX23 is one of the most affordable programmable coffee maker around. It might not be the cheapest, but we think it is one of the most value for money...