A pod coffee maker that is perfect?



A pod coffee maker would be perfect if it can be used to brew anything that comes along, don't you agreed? These single serve coffee makers already have what we wished for: it is easy to clean, easy to use and brew high quality coffee.
However, till now, most pod coffee maker comes with a "burden", most of them are still operating a close system. Which means that you would have to get the coffee from the brand that the machine supports.
If you got a senseo, then the coffee would come from douwe egberts. Regardless who you asked from a casual drinker to a coffee lover, variety is what everyone loves.
And that is when you have things like perfect pod coffee pod maker. While there are a few varity of pod makers, this is one of the models that has many raves and positive reviews. Using this perfect pod maker, you can create any coffee you want and the pods can be used on Senseo, Melitta One, Simplehuman and many others.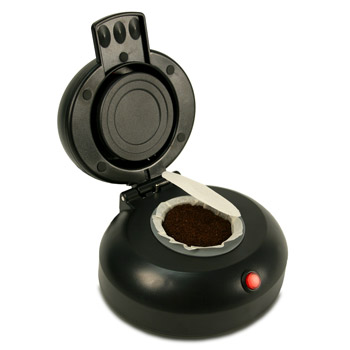 Rather than naming the ones that it is applicable (Which are many), there are only a few brands that cannot use pods from perfect pod maker. They are Nespresso, Keurig and Tassimo, each of them having their own proprietary system.
Of course, being something that compliments single serve coffee makers, the perfect pod maker by itself cannot be too complicated in operation. In fact, this is superbly easy to use.
All you need to do is to pick the coffee blend you like. Pour it into the filter coffee pods (the filter paper provided), plug in the unit and let it heat up. The perfect pod maker would press and sealed the coffee pods and then it is ready for brew in your pod coffee maker!
*Tip: Althought the instruction manual says that one should press it for 2-3 seconds, you might want to hold it for at least 6 seconds. This would really sealed the pods and ensure no breakage.
If you asked me what is the best portion for this perfect pod maker, I would recommend a 8 grams, this would be perfect for making a 8 ounce cup. Of course, this is my taste profile and you can adjust the grammage up or down depending on your own preferences.
**I would not go into how much water and other variables in getting that perfect brew, but you can pick it up at our free coffee course.
However, I can share with you that to get a even better flavor from these self make coffee pods, you should wet the pods prior to using it on any of your pod coffee maker, it would seep the coffee better and give you a more aromatic cuppa.
Sure, what we recommend here is not a single serve coffee maker, but you have to agreed that it is an equipment that would greatly value add to your coffee experience while using a pod coffee maker.
A tool that would enable you to drink any coffee that you fancy, and that to me is a perfect coffee solution...