oomphaticos -dream cafe with airy fairy drinks and food
oomphaticos attracts first with its name then once in awe with its very girly, probably we can use the word "loud" set-up.
This is a cafe that scores on its look and feel, and we think it is set up to be so. In fact, the drinks and food are along the same theme.
The whole place look some European restaurant, but the name keep us thinking that it is staffed by the small little folks from Charlie and the Chocolate factory.
We half expecting that some small folks would break into the dance. well, probably not too apt, but that is the feeling you get once you are inside this cafe.
---
Why should you go to oomphaticos?
You go there to be in a beautiful setting! Take some shots and marvel at the effort the owners have put into the decor of the place.
Then, order some interestingly termed drinks to round up the whole experience. Drink some oomphatuation (supposinly to detox you), sit back and let your imagination do the rest of the work.
If we sound a little over the top in this write-out, we are. The place and the setting gives one such a feeling.
In fact, this is the best place for a girly outing or for tai tai to relax after a long shopping spree. We think this place probably was designed with the female demographic in mind.
And the location at 163 Tanglin Road, which is the Tanglin Mall, seconded our suspicion. Plush place in a premium shopping belt.
---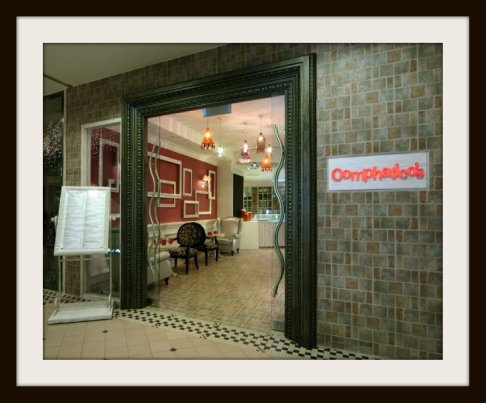 What is the best time to go?
We always like to recommend you to before or after the hustle and bustle. But, go before lunch, when the place is just set up to enjoy its full glory.
You know how things look when cleaned and after going through some usage. It looks different.
For this cafe with unique setting, when it is just clean and set up, it looks the best -so if possible check it up around 11am.
oomphaticos sounds interesting and the place looks cool, but all these are not that unique to you? Then, please follow the link and share with us on a unique cafe that you have in mind.
In return, we have something to share with you as well.