Which large coffee maker is good?



What is meant by a large coffee maker? A coffee maker qualifies as large when is caters for more than the extended family.
This means a coffee maker that is able to serve thirty plus cups is considered large. Based on that definition, the resulting question of which large coffee brewer is good needs to focus on coffee makers that can handle such a capacity. The market place is filled with a variety of products that qualify as good large coffee makers.
Delonghi have a fifty cup capacity coffee urn, the DCU500T, which is an attractive urn with a stainless steel finish.
It is able to serve fifty cups of coffee and keep the coffee warm. The stainless steel filter basket and pump mechanism will go a long way to ensure consistency of taste of the coffee brewed.
---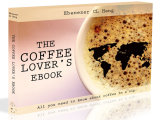 Love coffee? Here is some more "free stuff"! Learn more with this ebook (is free!)



---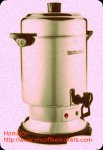 Compared to that the Hamilton Beach coffee cup urn provides up to sixty cups of coffee. This coffee maker, the D50065, is attractively designed and can be displayed as part of a self serve buffet.
These are not the run of the mill domestic drip coffee makers. They are specifically designed to produce large volumes of coffee. Another large coffee maker is the West bend one hundred cup commercial coffee urn.
This is a large coffee maker with the emphasis on large. It has similar design features as the Delonghi and Hamilton beach coffee makers.
In fact there is a large Cuisinart coffee maker and a large Zojirushi coffee maker on the market that will provide a good service for serving coffee to the masses too.
All of these are single purpose coffee makers. None of them are dual coffee makers, i.e. they will not produce espresso and coffee. They are designed for the mass production of coffee and will keep the coffee warm and palatable for quite some time.
So which on of the large coffee brewer is good? The answer will be determined by the volume to price ratio that is best suited to your budget.
The larger coffee makers, i.e. sixty to one hundred cups, will retail for around one hundred dollars. The slightly smaller urns that cater for thirty to fifty cups range in price from forty to fifty dollars.
The exceptions are to be viewed with circumspection, especially the largest coffee makers for the smallest price. The good coffee makers will be those who will be able to work hard and last a considerable amount of time.