Krups Moka Brew is very popular with them



Krups moka brew was popular and still is in demand, this speaks about the quality of appliance from krups. The Krups appliance company has been in the business of machine all sorts of appliances related to the art of coffee making since 1846.
It is, in its home country of Germany, a well recognized brand which can be relied upon to provide premium products for excellent service.
The Krups Moka Brew is a case in point. This interesting coffee brewer is reminiscent of its famous Italian counterpart in that it makes use of water pressure built up by heating it in a sealed reservoir.
Introduced into the German market in the 1960's, the Krups Moka Brew fast became a firm favorite with the German clientele. This Krups coffee maker has been a firm favorite ever since.
---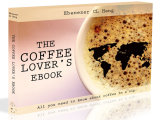 Love coffee? Here is some more "free stuff"! Learn more with this ebook (is free!)



---

The "thing" about the Moka Brew is that this coffee machine makes use of the same principle that is used to make espresso, viz. driving steam through coffee grounds to produce excellent coffee.
Like with other similar coffee machines, the Krups Moka has its water reservoir at the bottom with the rest of the appliance mounted on top.
The water reservoir is filled with water to the appropriate level, the coffee grounds are placed into the filter basket onto of a unique round paper filter.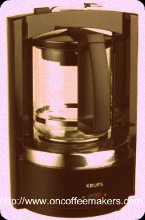 This component of the Krups Moka Brew is more reminiscent of a drip filter coffee maker than a traditional espresso machine. The literature found on the Krups F468 advises the user to moisten the paper disk filter before placing it into the filter basket so as to provide a proper seal with the bottom of the filter basket.
A dry paper filter disk might allow some of the coffee grinds to escape into the carafe below. Once all the ingredients have been placed into the Krups Moka Brew in the correct quantities the unit is sealed with a locking lever mechanism and switched on.
The steam generated from the water in the bottom reservoir is driven into the filter basket chamber and allowed to percolate through the coffee grounds into the carafe below.
The Moka Brew is the balance between the traditional drip filter way of making coffee and the traditional espresso. It provides a coffee finely balanced between the two which is a very enjoyable coffee experience.
From a safety point of view it is vitally important to remember that this machine should be treated as an espresso machine. This means that just as one would not did around in an espresso machine whilst it is operating, this machine should be allowed to complete its brewing operation before the machine is opened and the carafe is extracted. The resultant coffee will be well worth the wait.