This krups espresso machine is "buyable" even if the coffee is lousy.






No, krups espresso machine do not make lousy coffee. I am saying that even if this particular krups makes lousy coffee, you would still buy this machine.
Well, the reason is the XP 7200 series under the krups espresso machine looks good or "sexy" enough to be used as an ornamental piece. With its metallic look, sharp lines and sleek build, it can fit into any kitchen or home furnishing.
But, that is me. I am someone that go for looks, but the Espresseria Automatic XP 7200 has more than looks. Firstly, it exceed the basic requirements of an espresso machine with its 15 bar pump, ensuring the right extraction of espresso.
We all know that the right pressure to get the full extraction is not enough, the beans by itself should be freshly grind. So, this krups espresso machine comes with a 3 positions burr grinder to ensure that you have espresso extracted freshly grind beans.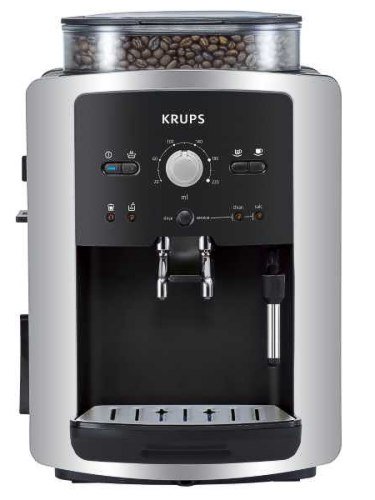 Oh, let's go one step further, freshly grind might not be fresh if the beans are roasted for a while, because we all know that flavors from roasted beans would be gone after a week.
**Want to know how important grind is to a good brew, check out our free coffee course...
No worries, krups XP 7200 comes with a translucid container that has this hermetic seal, this seal assist to preserve the freshness of the coffee beans, it is said that the shelf life and freshness of the beans can be doubled with this seal.
Krups sure take care of the entire coffee process so that you get the best cuppa, from its espresso machine. But, they do not stop here. Another crucial element in brewing great coffee is of course water.
And this krups espresso machine comes with aqua filter system, to reduce hardness, particles, foul taste and odors in water. Again, another variable towards a better cup of coffee.
You would find that I focus on getting good coffee with the XP 7200 series, to highlight that other than its ultra compact design, the XP 7200 comes with great coffee brewing features...


Wanna read about other coffee makers?