Buying kitchenaid coffee grinder with 1 single good reason...



For kitchenaid coffee grinder, I have written about its in numerous articles, including one within oncoffeemakers site itself. So, why am I writing it again.
Let's just say this is written for folks that asked me "is that it?" question. When folks asked me on the value of kitchenaid coffee grinder, I would highlight the features of Kitchenaid Pro line series, the same series that produces some of the finest kitchenaid coffee maker.
Firstly, I would touch on its die cast metal construction, how good it would look and also the stability and sound reduction that it would add to the grinder.
Then, I move on to the precision stainless steel burrs, the most important feature for the entire grinder. This is also the feature that allows you to have 15 distinctive different grind.
Lastly, I would talk in length on the low noise and low rpm grinding operation. To me, it used to be the most important function, lower rpm other than giving you less noise thus peace, would also gives you better ground. The slower grind operation would reduce the heat generated thus protecting the flavor after the grind.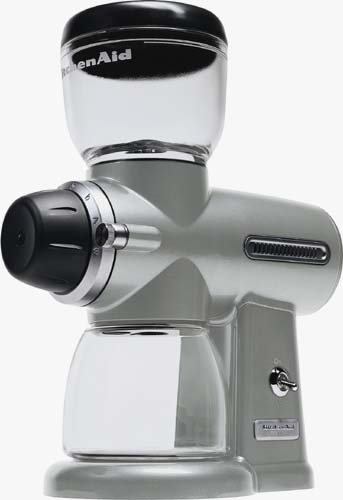 But, as mentioned, with so many "is that it" question, I am sort of forced to insert more qualities. I throw in quality like positive bin seal. A plate that locks the coffee bin into position, thus preventing grinds from escaping.
It doesn't impress the inquisitive folks, I even shared with them the under cabinet design, highlighting how the compact design would fit easily under the cabinets.
Still, they were hoping for a better deal and even more feature. Then, when I highlight this one last feature, most folks stopped asking, they know they got a good deal. And, this is also the reason why I am writing this article, anyone would get a kitchenaid coffee grinder upon reading this last value add.
Kitchenaid has a 2 year hassle free replacement warranty, correct at 22nd March 2008. That means, if your kitchenaid pro line series coffee grinder fails within 2 years, they will replace it free of charge, what other things can you asked for.
Other than being very confident about their quality, Kitchenaid coffee grinder has also come out with a superb value add -'buy our products, you do not have to worry about a single thing, if anything happens, we would take care of it'.
With this value add, usually people stop asking for "is that it?", because if this doesn't make you want to buy a kitchenaid, then you are not even thinking of a grinder in the first place...