Keurig coffee machines "secret" you might want to know






what keurig coffee machines would I be telling you that would make you love this single serve coffee maker more? Personally, I thought you would have heard enough of the fast brewing, easy to use and easy to maintain "secrets" of a keurig coffee maker.
So, here you would be glad to know that the
keurig coffee machines
which you are using might be the same as what your favorite actors or actress are using. Imagine, Brad Pitt or Meryl Streep using the same machine as you are.
This might not mean anything to some folks, but to some star struck folks, they are elated to know that their idol is using the same machine as them.
However, being "stars", they are not using any cheap keurig coffee brewer but the very expensive platinum gourmet brewing system package. A package of each machine with supply of k-cups would set you back by at least $450.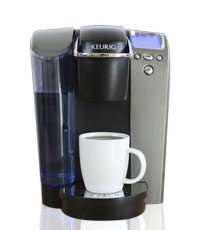 Now, if you are wondering how and why I would know that celebrities are using it and how do I know right down to the exact names of who is using what, well that is because keurig platinum gourmet brewing system has being chosen as the gift for the Golden Globe award.
And all participating celebrities would be given a set of the keurig platinum gourmet brewing system together with a few months of k-cups supply of their choice.
I know that simply just by this piece of news alone, would drive you to buy the platinum gourmet brewing system. You just need to own a piece of the keurig coffee machines that your favorite actor or actress is using right?
That is the secret which I am going to share. Personally, I can see that keurig product strategy seems to be going in a U shape. First, they launched the b100 which is higher priced, then they come out with b40 which is really affordable, then they slowly scale up the price.
Other than introducing machines for the different segments, they are also testing the market acceptability to the pricing which they are setting.
Personally, my thought is, to go for the keurig b40 (the lowest cost one) since they still brew you the same coffee, check out this link for more information on the b40: