Flavia perfects the home cafe experience






Starting a home cafe meant that you are going to dedicate one area to brew coffee, some comfortable spots to rest and relax to enjoy the cuppa. While, there many machines would do the job of delivering good coffee, in this article, I am going to talk about flavia coffee maker.
Now, if you to have this home cafe concept, what are the things that you would be looking for and what are the things that you do not want it to bother you.
If it would me, I would want something that is easy to use, would not take up too much space and definitely a coffee that taste great. Seriously, I would have gone with a single serve coffee maker, it does all the above, but there is one thing that flavia coffee maker has that is an edge over them -style.
---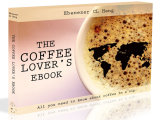 Love coffee? Here is some more "free stuff"! Learn more with this ebook (is free!)



---
Before moving on to the look and feel which make me choose her over others, lets examine its operational aspects. Flavia coffee maker, for example the creation 400 uses the flavia sachets to brew its coffee.
This concept is very similar to single cup coffee brewers, you put the sachets in and the coffee would be brewed. It is definitely what you termed as easy to use.
Then, the foot prints of this machine is extremely small. It measures smaller than 17 inches and weights less than 23 lbs. This I feel is also another important factor for your home cafe.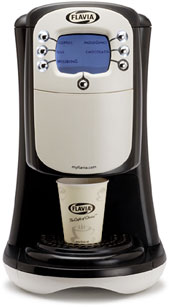 Without the need for a large area for brewing coffee, you can dedicate it to more space for relaxation or even some other forms of unwinding like a bookshelf?
How the coffee is, is not something that should be coming from me. Because the fact that I am talking about this machine, I can only say good things right? Well, if you Google reviews of flavia coffee, you would find that there are many positive reviews about its quality coffee.
So, a good coffee, a simple to use machine that is not demanding on space, that is usually enough to drive one to make a purchase. But, as mentioned earlier, what make me decide to choose flavia over the others for my home cafe set-up is the look and feel.
With its LCD display, its sleek and curvy shape, even if it is not a functional piece of appliance, I think it would look good as an ornamental piece!
Well, folks that have read my other articles would know that I am partial towards good looking machines, and this is definitely the case for the flavia creation 400.