Owning a Glass Coffee Maker is Like Owning a Piece of Art



Glass coffee maker is not the simplest coffee brewers, but it is a pretty looking piece of equipment to own.
Among all the coffee makers that were invented since the advent of the first coffee maker, none is more elegant and simple as the Chemex coffee maker.
Which is known quite simply as the glass coffee maker, and it even rivals the quality of the coffee brewed by the more advanced and sophisticated coffee makers of today such as Cuinart, Bunn, and DeLonghi coffee makers, among others.
The reason why I stated that owning a glass coffee brewer is like owning a piece of art is due to the fact that this coffee maker is displayed in various exhibits and museums such as the Smithsonian and the Museum of Modern Art.
---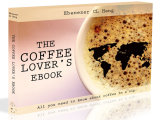 Love coffee? Here is some more "free stuff"! Learn more with this ebook (is free!)



---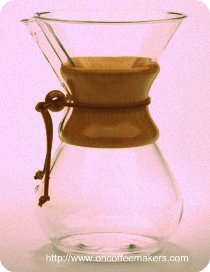 And despite the fact that the Chemex coffee maker is more rudimentary than the modern coffee makers that we see and use today, it is quite simple to use, very elegant and pleasing to the eye, and it makes great tasting coffee.
Although the glass coffee maker is a "relic of the past", it is still being sold today and is still being used by a lot of people.
How the Glass Coffee Maker Works
The Chemex coffee maker or glass coffee brewer makes use of the basic principles of coffee brewing and is used pretty much like a manual drip coffee maker.
Basically, it is an elegant hourglass-shaped coffee pot that is made of highly tempered glass and has a convenient wood collar that makes it easy to handle even when it's filled with scalding hot coffee.
It makes use of a circle-shaped or square-shaped paper coffee filter, which is placed on top of the coffee maker. Place your favorite blend of coffee grounds inside the filter, and then pour hot water over the grounds.
The hot water will start to interact and extract the flavor and aroma from the grounds and the coffee will seep through the filter and accumulate within the glass coffee brewer.
It's pretty simple to use. And the best part is that you have complete control over the whole brewing process.
Therefore, as long as you heat the water up to the optimal brewing temperature, which is 195° to 205° F, and as long as you grind the coffee beans into the ideal size, which is a medium grind to optimize coffee extraction, you will always get a great tasting cup of coffee.
Where to Purchase a Glass Coffee Maker
Glass coffee brewers come in different sizes, from a 3-cup, 6-cup, and 8-cup coffee maker (5 oz per cup). And believe it or not, it's not that difficult to find one. It can be easily found and bought online in reputable online stores such as Amazon.com.
Furthermore, these online stores also sell the coffee filters and other accessories, such as the Chemex glass coffee brewer lid, cleaning brush, and stainless steel grid, which help enhance your coffee experience.
Ultimately, the Chemex Glass Coffee Maker is highly regarded as a deceptively simple coffee maker that brews great-tasting cups of coffee. Due to its simplicity, it is very affordable, costing only just under $40.