Chemex coffee maker is so easy to maintain






Chemex coffee maker has numerous value add that has nothing to do with buttons or a better brew but it is about how it fits into the lifestyle of the current economy. So, what is the current economy?
This article on chemex coffee maker is written on the 20th November 2008 and the whole world is in the midst of many crisis. Financial is one, news about banks going bankrupt and world record retrenchment are on the headlines everyday. Then on the environmental end, you have oil running out, and how the earth is not in such a good shape too.
So, how can using this coffee brewer helps in your lifestyle? Although the world crude oil prices has gone down, our electricity bill has not shrunk that much and at this moment, where your job is not secured, you would want to save as much as possible.
And between electricity and gas, the latter is definitely at lower cost bracket, and so if you can choose, would you not want to enjoy your coffee by using gas to brew?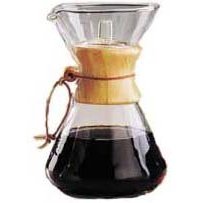 Then, electrical coffee machine is so automated that it creates bad habits. Can you imagine how much electricity you would waste by switching on the warmer plates just to keep your coffee warm? Would it not be more cost efficient to brew a new pot?
Chemex coffee maker by its simple set up mitigates all this issues. It does not uses electricity, all you need to do is to pour in some hot water on the coffee grounds, and the coffee would flow into the flask below via the filter paper.
It is like a drip filter but a manual one. The set up is simple, it is very easy to use and it is even easier to clean. For cleaning, all you need to do is to detach the connecting flask, rinse it with water, dry it and you can keep it in your cabinet.
You might think that this is a brewer that is very manual and need to do a lot of work. Personally, the difference between the chemex and any automated drip filter coffee maker is the fixing up of the former and the brewing of hot water.
Two extra steps and you would still get the same quality coffee but at much lower cost. And I think that the quality of the chemex coffee maker would be better because you clean it after every use and there is no possibility of any residual oil to cause any foul odor.
For the automated coffee machines, it is quite tedious to open out every parts to wash so you might only do it once a week and this would lead to some strange odor in the coffee. Read our free coffee course to understand how important cleaning is to better coffee.
Ease of use has a different meaning for different individuals, but for me, this is a brewer that is not difficult to operate and I think that in the long run, using the chemex coffee maker would assist one to save some utility costs.