FMF5 Programmable Coffeemaker main draw is this!
FMF5 Programmable coffeemaker from krups has it all, good looking, programmable, good operation process, but we saw it differently.
We think that its main ability is its thermal carafe. This is in fact one of the rare krups coffee maker that comes with a thermal carafe.
So, how do we evaluate what it good or bad?
---
How do I know if this is a good coffeemaker?
This is very similar to the age old question of "which is the best coffee maker?". Seriously, we cannot, and nobody other than yourself can identify that.
It has to do with your lifestyle and profile, thus in all our reviews, we used a consumer shopping mentality when evaluating.
The main factors that impact a consumers' decision are price, ease of use, brands and size of machine. So, you have to decide which of these factors is more important and the brewer than scores the highest in that department would be your "best coffee maker".
For more information on finding the best brewer, check out this article.
---
Stuff about FMF5 programmable coffeemaker that you can also read elsewhere
This krups allows you to program coffee when you wake up, has visible waterline, de-scaling indicator and a good brew cycle.
But, so does all the krups right? One of the thing that we feel is lacking in most krups is a thermal carafe. FMF5 has it!
Comparing apple to apple, this would be the reason why we get this coffeemaker...
---
Our Reviews on FMF5 programmable coffeemaker
Price
At less than $90, this is one of the more economical programmable coffeemaker around. So, if you have a budget and want a programmable -this is the one.
Phew
Programmable, one button operation, it is easy to use. Cleaning is the same as a drip coffee maker.
So, ease of use wise, this is okay, not good or bad.
Popularity
Reasonable. Most users find it acceptable and keep using them, so in a way, they are reasonably popular.
Plot
The smaller among the programmable coffeemakers, because it is a 10 cup operation.
So, if you are looking for programmable and has a space constraint, this would be the one.
You should get it if this is within your budget because its coffee is reasonable and it comes with a thermal carafe.
---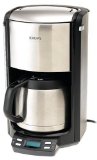 Hmm...is these information is not enough for me
It was not meant to be, this article main value add is to provide a brief on by using the 4 factors and highlight which are the ones with a higher weight-age.
One would really benefit from peer information sharing and the user reviews in amazon for FMF5
is one of the best, so do check it out prior to making any decision.
For other articles similar to FMF5 programmable coffeemaker, check out our krups homepage.
---

Your views and comments on Krups FMF5 coffeemaker
What is your views about Krups FMF5 coffeemaker Share it with us...
What Other Visitors Have Said
Click below to see contributions from other visitors to this page...

Why the krups FMF5 is not good. Not rated yet
Today, let me talk about my experience using Krups FMF5 coffee machine and also make you understand that why is this coffee maker not a good one. …