How FME4 coffeemaker from krups produces good coffee?
At one glance, the FME4 coffeemaker from krups look just like a km1010 or many of krups other drip coffee makers.
Stainless steel body, LED light, programmable features, they are all so similar. But, what awe us and you is the system that is inside.
---
So, what make us so good that we can evaluate coffee makers for you
Nothing. Because we shop more, we learn more and the most important thing is we learn to think like YOU.
You, the consumer is the inspiration for us to come out with the 4 factors in choosing the ideal coffee maker. They are the ease of use, a manageable size, a reasonable budget and a good brand.
Learn more about it in the link above.
---
Basic information about FME4 coffeemaker
It looks good because of its double walled stainless steel body. Its capacity is good with its 12 cup glass carafe.
But, it is the water filtration system that differentiate it from the rest and it is also this that make it a better coffeemaker.
The heating plate that can be time adjusted is good as it reduces the likelihood of burnt coffee and the pause and serve is another point that can attract numerous coffee drinkers that cannot wait.
---
Our ratings and reviews
Phew
This is fully programmable, so for a coffeemaker, it is easy to use. But, in general, if you are looking for a real easy coffee solution, get a single serve instead.
Price
At close to $70, this is not cheap, but with descaling indicator, and the water filtration system, it is a value purchase.
Popularity
It is from Krups, one of the biggest name in coffee industry, and this unit has a slew of positive comments, so it is popular.
Plot
This is not a small machine, so for houses that are really starved of space, this is not the unit for you.
---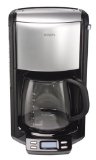 Yes, from our reviews, it seems that if you do not mind paying a few more dollars, this seems like a good investment.
But, we always say that reading and learning more prior to making a decision is key, so read more about FME4
here prior to making any decision...
And if you want to read other krups article similar to this FME4 coffeemaker, check out our Krups homepage.
---

Your views and comments on Krups FME4 Coffeemaker
What is your views or comments about Krups FME4 coffeemaker? Share it with us...
What Other Visitors Have Said
Click below to see contributions from other visitors to this page...