An overview of flavia drinks



Flavia drinks of course comes from the same name coffee machine, and it is becoming a popular single serve coffee brewer.
In this new age, the Flavia coffee machines are speedily becoming the choice when it comes to office coffee systems because of their size, efficiency, low-maintenance and cost-effectiveness.
It features an easy to use system, allowing you to choose your beverage from an assortment of drink packs. In fact, you can choose from not only an assortment of ground coffee but hot chocolate and even teas (oh, the coffee are not freeze dried but ground and sealed).
The moment you made your selection, all you need to do is to put the filter pack into the Flavia coffee machine, press the button and that's it.
---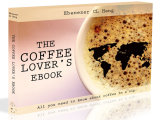 Love coffee? Here is some more "free stuff"! Learn more with this ebook (is free!)



---

Your coffee is prepared and the only cleanup involved is the throwing away of your used filter pack. so, you can see why we say that Flavia coffee machines are tremendously low maintenance and perfect for smaller offices or pantry.
Then there is the wide variety. The Flavia drinks menu has more than 30 inspiring drinks that will surely fits the taste profile of the person drinking it.
These Flavia drinks menu are divided in three categories, they have the different coffee blends, tea blends and chocolate blends.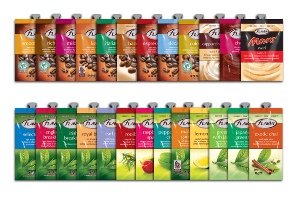 Coffee blends
For coffee blends it include Smooth Roast and Rich Roast which both contains an enjoyable taste and comes in a well rounded medium roast coffee.
Italian Roast with the hints of spices and caramel, Mild Roast which is a balanced blend of coffee, Decafeine that is fruity flavors.
Then there is the Hazelnut that comes in the subtle of hazelnut twist, as well as Sumatra that comes in the volcanic area of Indonesia and Kenya with a light, citrusy flavor.
In addition, Flavia coffee blends are Espresso Roast which is the best choice for intense espresso hit and Columbia that has unique full-bodied coffee with a distinctive nutty flavor.
Tea Range
Apart from that, Flavia has also wide tea range and this includes a classic tea with an instantly recognizable subtle aroma and unique flavor known as the Earl Grey.
English breakfast, the well-loved blend of fresh leaf tea that delivers a full, smooth flavor and English Breakfast Decaf which is a mild leaf tea.
Malawi Garden that derived from amber tea, Selection Tea which has a refreshing light taste.
In addition to the Flavia tea range, they also have this Royal Blend which is an intense invigorating tea, Japanese green Tea that comes in the foothill of Mount Fuji, Green tea Jasmine which is a green tea with scented delicately with jasmine flowers and an enticing mixture of ginger, cinnamon and cloves known as the Exotic Chai and a lot more different tea blends.
Dove Chocolate
Flavia drinks also offers dove chocolate. This dove chocolate leads the way to Flavia to produce different blends of hot chocolate.
With this, you will not just experience the taste of coffee drinks, tea range of Flavia instead you will also taste the chocolate varieties.
Overall, Flavia coffee company expand its idea in manufacturing coffee machines that creates different beverages. This in actually a good thing since people will come to have an option when it comes to the beverage they wish to drink.
All these sounds good? And if your office is in Singapore, you are in for a treat. We have tied up with flavia distributor, and to try flavia beverages, simply fill up the form below:






---