The filter coffee components that is REALLY essential



What is your opinion is a filter coffee most important element? This is the thing that would either brew you a good coffee or so-so coffee. I am talking about an element that is exclusive to this type of brewers.
And there is only thing that differentiates filter coffee from any other type of coffee and that is the filter! Sure, the temperature of the water, the type of water and even the conditions of the coffee makers would affect the quality of your coffee, but here we are talking about the type of filter.
**For more information on the elements that affect your coffee, check out our free coffee course
Most of you would be familiar with the paper filter. Currently, there are many varieties out in the market, from the branded Melitta filter paper to the very environmental type, one is really spoil for choice when it comes to choosing filter paper.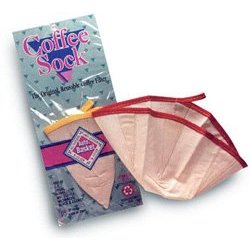 By the way, if you are not aware of it, melitta was the first company to come out with the concept of filter paper, thus if you are looking for good filter paper, this is the company to go to.
Most of you might not have heard of it, but this filter is incredibly popular in Asia, the cloth coffee filters. It is either used in bigger operation such as serving coffee in a commercial setting or used as what is known as coffee socks.
In fact, coffee socks is very popular in South East Asia, and you have chains such as YaKun that has outlets that are comparable to Starbucks (lesser but in my opinion, might be catching up).
Another filter that is catching up in popularity is the gold coffee filter. Make popular by companies like Bunn and Cuisinart, the filter coffee from this device is better in taste due to the higher quality of water.
Gold filter is supposed to filter away the minerals in the water. These minerals would make the water "hard" and when you brew coffee with it, it would not taste as good. So, filtering it away would give you water that is better quality, leading to a better brew.
You might not have thought about it and most coffee maker reviews would probably not mentioned it, but filters for coffee makers is an element that is important to how your final brew would turn out...