Farberware coffee urn stand tall, elegant and works well in any parties!



Farberware coffee urn is beautiful and useful in serving the masses. This beautifully crafted urn not only looks good in any setting, it can percolate close to 40 cups of coffee at a rate of 1 cup per minute.
Personally, I say that this farberware coffee maker a gourmet coffee maker? Well, call me a history buff, but with Farberware heritage and the niche, its coffee maker occupies, they well deserved this title.
**Heritage or not, you still need some skill to brew you great coffee, check out this free coffee course to see how it can be done!.
The 1150 watt stainless steel (finish with a mirror-polish) Farberware coffee urn looks elegant for any occasions, and it look expensive.
Trust me, when I first saw it, common sense told me that this piece of antique looking coffee maker should be in the range of USD$400-500. It is worth that much with a single look. Can you imagine, that it is retailing at not even half of that price?
Other than its great look and huge capacity, it comes with auto function that indicates when the coffee is ready and would even automatically keep the coffee warm.
With these features, I would say that the price tag of USD$100 plus is a steal . And that is not to mention that Farberware coffee urn is not any new kids on the block but an established appliances company that has been around for close to 100 years.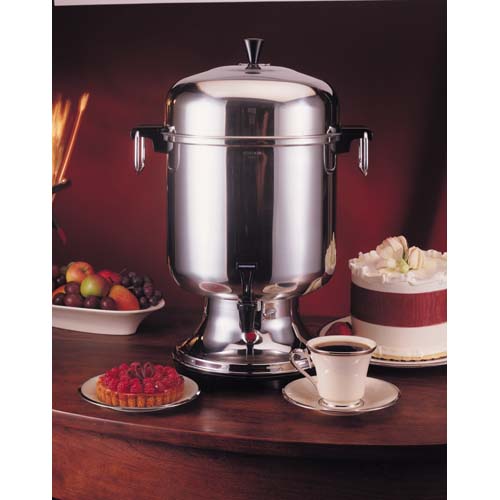 Farberware coffee urn was an innovation from a few appliances. It probably started with the percolator introduction in 1930 and a couple of years later in 1937, the "coffee robot", which was designed to keep coffee warm.
Of course, the coffee urn that we are now familiar with, has both functions. So, the coffee urn is a result of innovation and blend of technology from years of Farberware appliance design and engineering.
If you asked me what is the best way to choose a coffee maker (assuming that you do not have much preference in taste), I would say go for the company that boast of good heritage.
That is usually a safer bet. Heritage either in the coffee producing, i.e. coffee roasters like Douwe Egberts or heritage in making appliances in this case, Farberware.
Faberware is a company that was started by S.W Farber pounding copper and brass to make bowls and appliances in the 1900 and as the year progresses, they added new appliances, make new innovation. Resulting in the range of appliances that they have today.
Why I want to look at company's heritage? Well, if this company can exist making the same thing for so many years, the years would bear good testimony on the strength of its products. Otherwise, who would still be buying its products after so many years?
When you get a Farberware coffee urn, other than buying a quality product,I would say that you can look forward to interesting innovation to the appliances.As other than quality, innovation plays a strong part in sustaining the sales for so many years.
**Coffee lovers seldom change brand once they grow on one, and technology update on similar makers is important.
Oh, in case that you chance upon this article looking for coffee makers, this coffee urn is really suitable for parties and places that require high capacity, not good for personal consumption. Go to the homepage, for some other machines that would better cater to your needs.