This delonghi espresso coffee maker gives perfect cappuccino!



Delonghi espresso coffee maker giving perfect cappuccino? This is quite a claim right? Nothing to discredit the coffee machine or the brand, but good cappuccino is not easy to make, not to mention perfect!
*Talking about good cappuccino, would it interest you in learning how to make perfect coffee, if so, then click on the link to learn how...
The thing about this particular delonghi espresso coffee maker is its special patented system. And this espresso maker that we are talking about is the ESAM6600, a fully automatic espresso coffee machine.
And, it is so "automatic" that it comes with a patented fully automatic cappuccino system known as autocappuccino system. Forget about the frothing, measuring the temperature. Here everything is taken care for you with a few push of buttons. Now, you just enjoy the perfect cappuccino.
Perfect cappuccino is great, but this ESAM6600 does not stop here. They have what you know as personalising your coffee. You can have a short, medium, long, strong or mild aroma.
In fact, you can in fact vary the temperature of the coffee, with very hot or medium temperature and of course, there have this adjustable coffee dispenser for different cups size.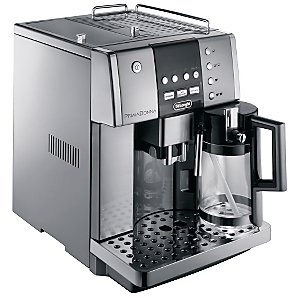 Easy to use is one thing, I especially like the easy to maintain part about this delonghi espresso coffee maker, click on the link to see how "hard" other coffee makers is. For one, even the rinse and decalcification is on auto programmes. I guess this is why the ESAM6600 is known as the super automatic espresso machine.
When you mentioned super automatic, naturally full features would come to your mind. And this meant that this particular espresso maker comes with a grinding function. Which it does, it fact a very quiet burr grinder.
To make things better, this delonghi espresso coffee maker allows you to have a choice on grinding your own beans or using ground coffee.
ESAM6600 is not the lowest priced espresso machine in the market, but it gives one of the best coffee experience one could have away from those professional coffee shops...
**Another way to manage cost is to go for free stuff! We have prepare something on free coffee, you might like to take a look...
If you want to know more about delonghi, we do have a page on delonghi coffee maker, do take a look.