Delonghi coffee grinder lets you grind at the lowest cost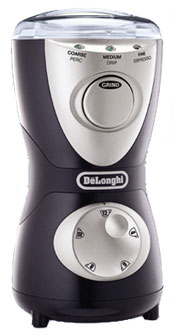 Delonghi coffee grinder is one of the cheapest in the market and if you are just starting to grind your own beans -my advice is always go for the lowest cost.
**Talking about cost, I wonder if you would be interested to learn about some free coffee tips and how to get them free?
In general, between burr and blade grinder, the latter would be lower in cost. And it is a blade or mill grinder that we would be featuring from the Delonghi range.
If you chance upon this site for the first time or are new to the whole coffee makers' mambo jumbo, the question would be -why grind? You would probably saw ground coffee merchandising in dazzling variety in your local hyper market, so why go to the trouble of choosing a grinder, shouldn't we discussing a variety of ground coffee?
The fact is the ground coffee starts to lose flavor and coffee oils after 2 days.So, unless you can finish the whole pack in 2 days, if not, most of the time you would be drinking stale coffee. Oh, coffee beans on the other hand can maintain freshness for up to a few months with the right storage.
And if you would to get the fresh beans, other than roasting (which we would touch in another article), it would be the grinding to get the great tasting cuppa. Then, to really begin learning my recommendation would be to start with a DCG39 Delonghi coffee grinder.
Coffee grinders prices starts from USD$20 plus and can go to the hundreds. And DCG39 at USD$29.90, is one of the affordable one that are reliable. In fact, in averest, you can order one at only USD$22.66.
Afford ability aside, this machine is sleek with a capacity of 2.36 ounces. Similar to most blade coffee grinder, it employs stainless steel blades and can grind up to 12 cups of 5 ounce coffee.
Using the delonghi DCG39 is effortless, a dial is all you need to select the number of cups desired from 4 all the way to 12 cups. Light above the on/off button highlight the grind which the machine is at currently, i.e. coarse, medium or fine, allowing you to switch off when at the desired grind.
Well, not that it can make much difference in your coffee taste profile but delonghi coffee grinder looks good. Clothe in gleaming black plastic, splash with some matt silver in a contemporary hour glass shape, it is very appealing on the eyes. To me, it does improves the overall coffee experience...
Yes, you would have figure out that all these are what the manufacturer wants you to know -Delonghi have to say that their coffee grinder is the best. To get a rounded view, would be to see what consumers like yourself have to say.
The sources are from the major shopping sites, i.e. bizrate, amazon etc, so other than reading this summarized version of reviews, you can read more on Delonghi coffee grinder at these sites.
Surprisingly, most people rate this blade grinder better than burr coffee grinders. Most reviews also attest to what the manufacturer says about the look, the convenience in choosing the grind and also the ability to choose the number of cups.
The most common complaint about Delonghi DCG39 would be the noise, there are numerous post that it is making loud noise. And seemingly, the grind works so well that even at medium, there are people finding the medium grind too fine. Other than these 2 drawbacks reported, DCG39 seems like a good bargain.
If you are moving 1 level up in your pursuit of the great cuppa, and decided that grinding is a step you would want to embark on - Delonghi coffee grinder DCG39 would be the choice.

Delonghi is highlighted due to its economical pricing and the good value for money. Most importantly, it stood the test of consumer confidence with good reviews that gives us more pros than cons.
If you are interested to know about delonghi products, like delonghi coffee maker, click on the link to learn more...
**Before we part ways, I would like to invite you to join our free coffee course that has information and tips in how to brew the perfect coffee...


So, if you have choosen the Delonghi coffee grinder, you are ready for a coffee maker and are not looking at delonghi coffee maker, maybe you would like to look for something here...