This cuisinart coffee maker gives you the freshest coffee!






A cuisinart coffee maker giving fresh coffee is no big news, but giving the freshest coffee is quite a claim! So, what is so special about this particular about this cuisinart?
For a start, for this
cuisinart coffee maker
to give you fresh coffee, it must have the ability to keep coffee hot (therefore fresh), so forget about warming plates, or any heating elements! If you want your coffee hot and not burn, then it has to come with a thermal carafe.
And this cuisinart carafe is reputed to be able to keep coffee hot for at least 4 hours. So, the first value add that this coffee maker brings to the table is a thermal carafe that can keep coffee for at least 4 hours.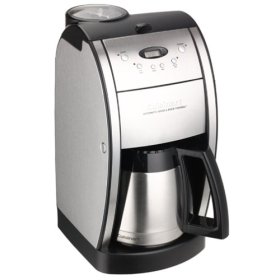 Although many people does not think much about auto shut off, personally I think it is one of the important element to ensure that your coffee is not "over brewed", thus burning your coffee. This auto shut-off feature ensures that a brew is of the standard time.
Now, keeping fresh coffee fresh which this cuisinart is able to do, is very different from brewing fresh coffee. Nothing beats waking up to a cup of fresh coffee, and that is the reason why a programmable function feature is so sought after nowadays.
Of course, if this cuisinart coffee machine is to claim the title of giving one the freshest coffee, then it would definitely be equipped with this function. Simply press a button, and you can wake up to a brewed cuppa the next morning.
We all know that water plays an important role in brewing coffee, but do you know that the quality of water is also equally important to brew great coffee. And this is why water filter is important to coffee makers. Of course, this cuisinart coffee maker has a water filter (charcoal) to ensure good water quality.
** If you want to learn more about how water affects your coffee, do check out our free coffee course!
After water filter, how the coffee is being filtered is also very important. Nobody likes to drink coffee that comes with some residue. So, good coffee makers always come with a complex filter system to ensure that residue would never appear in your brew.
And one of the best filter is the gold tone commercial filter, which of course is part of this cuisinart product feature as well. Having bring you till here, I should not hold the model anymore. The model that would bring you all these benefits is the DGB-600BC, also known as the grind and brew thermal 10 cup automatic coffeemaker.
Yes, it can grind too! All the above ensures that you can fresh brew, but nothing beats brewing the coffee right after grinding it, that would be the freshest brew ever!
In fact, while there are a few models that have grind and brew for a coffee maker, this cuisinart coffee maker packed with all its other features, is really many notches better than the rest of the pack in terms of delivering you the freshest coffee...
***If you have time to read some more articles, I would recommend this free coffee ebook, or this article on why coffee cuisinart maker does is better.