Cuisinart Coffee Grinder – Nothing Comes Close



Why talk about Cuisinart coffee grinder? It's background is not even in coffee grinders. Call it personal preference, but I think this is a good grinder, read on to decide if you would agree with me.
A coffee grinder is a must for every household that enjoys home brewed coffee on a daily basis. There are numerous commercial coffee grinders on the market today that adhere to this need.
Basically, coffee grinders come in two forms: blade grinders and burr grinders. Blade grinders are generally cheaper. These use blades to cut up the coffee beans continuously for as long as the grinder is switched on.
These are generally cheaper; however, the resulting coffee grounds are inconsistent and uneven. On the other hand, burr grinders grind the beans by crushing them between a rotating grinding wheel and a non-moving surface. The consistency of the beans depends on the distance between the two. The result is a more consistent and even grind.
---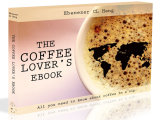 Love coffee? Here is some more "free stuff"! Learn more with this ebook (is free!)



---

The DBM-8 Cuisinart Coffee Grinder is a low-cost automatic burr grinder that performs really well. It's a very attractive appliance due to its stainless steel construction. It has very intuitive controls that make it very easy to use.
You can use this grinder for various types of coffee, such as Turkish coffee, espresso, standard drip, and French drip. In fact, it has 18 different grind settings from very fine to coarse. You can also set the amount according to the number of cups that you will brew from 4 to 18 cups.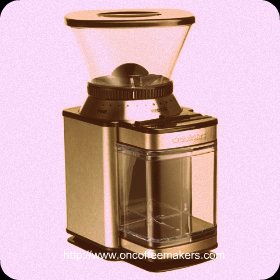 The grinder automatically stops grinding once the desired consistency and the quantity level is attained. Since this is a burr grinder, you can expect to get a consistent and even grind every time.
Transferring the ground coffee is easy and mess free as well. The grounds chamber conveniently slides out, and when you pull it out, it's covered with a lid, which prevents grounds from spilling out onto the countertop.
Finally, the Cuisinart DBM-8 Coffee Grinder boasts a safety feature, which prevents it from grinding when the hopper and chamber are not securely attached.
Cleanup is easy as well. The hopper, grinding chamber, and grinding bur can be easily detached for cleaning. Furthermore, it has a compartment at the base, in which you can store the cord, making storage easy as well.
The best part of all is the price of the DBM-8 Cuisinart Coffee Grinder. It only costs under $50. This is surprising, especially with its quality construction, intuitive controls, and easy cleanup and storage.
The statement "Nothing comes close," is not a statement of Cuisinart but my personal opinion. If you're looking for a low-cost automatic burr grinder, the Cuisinart DBM-8 Coffee Grinder is the one for you.