Capresso coffee maker can make you cappuccino!



Yes, a capresso coffee maker that can make you cappuccino, and by this coffee maker, we meant a drip filter coffee maker. While many of you would acknowledge that it is possible to do so, this capresso coffeetec is probably one of the rare few that can do so.
We all know that cappuccino is 1/3 milk, 1/3 froth and 1/3 espresso, so instead of an intense tasting espresso, you would get a strong coffee from this capresso coffee maker.
There is nothing complicated about the auto-frother that comes with this capresso coffeetec, although some care must be exercised on the assortment of plastic and rubber attachments.
**Talking about complicated, do you find coffee making complicated? Well, we have this free coffee course that might help you mitigate some of the difficulties...
That being said, the video instructions that comes with this coffeetec would make it very straightforward and easy, if you take time to go through it. So, other than the cappuccino thing, is this capresso coffeetec any good?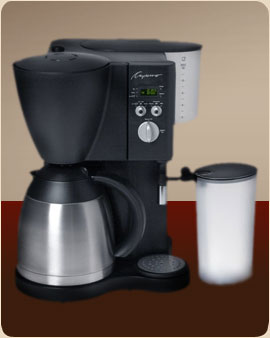 Before moving on to any other things, being a top of the line drip coffee maker, this capresso comes with a programmable function. So, if you want, you can programmed if 24 hours in advance and tuned it right down to how many cups you want for that brew!
If you like to have control over the brew and manage wastage, this is the controllable function that capresso coffee maker can bring to you.
Another cool thing about capresso that is frequently being talked about is the Brew Pause function. This is a feature that allows you to have a cup of coffee even before the brewing is done. For those that simply cannot wait, this is the function that caters to your impatience.
Of course, for a top of the line coffee maker, you would not see any warmer or "heating plates" to warm your carafe. Instead, you would get a thermal carafe. Not only does it give the entire coffee maker a better look and feel, it keeps the coffee fresh and hot without buring it.
According to feedback and review, the capresso thermal carafe can keep your coffee hot for at least 4 hours. For a group setting, this thermal carafe might not be anything much, but when you are serving coffee for just one pax, the thermal function allows you to have coffee for extended period of time and also reduce wastage...
In fact, even the design of the carafe is aimed towards reducing waste. The spout of the carafe is wide yet pointed so that when you pour, it goes straight into your coffee mug without any drips.
There you have it folks, capresso coffee maker coffeetec, other than being one of the few coffee makers that has a frother allowing you to enjoyed latte and cappuccino, it has boast of many features that would enhance your coffee enjoyment!
By the way, would you be interested to find out how to get Free Coffee from your workplace? This link might help