The burr coffee grinders' difference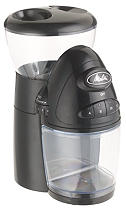 Burr coffee grinders similar to coffee makers are numerous in variety and pricing. The question is what should one get and does a higher pricing translate to a better performance?
So, lets start with the lower tier, with $29.95, you can get a Melitta burr coffee grinder. Other than promising you the reduced heat and maximum flavor that all burr provides, they allows you to choose the number of cups of coffee you want to grind.
Not much frills, but if you are starting up to grind your own coffee, this grinder is definitely for you. Burr is known for its consistent grind and its ability to maintain the flavor, so it is a good machine to start you on fresh coffee.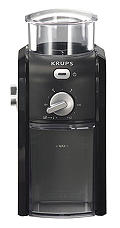 Krups burr grinders are at the next pricing tier at $49.95. They offers a few additional perks that burr grinder at the lowr price tier lacks. First, they have a fineness selector that allows you to select 17 positions from fine to coarse.
Then, there is the additional value add that might thrill the "clean" folks. How many times, have you grind and forget to place the lid and has things flying around? With this krups, the burr grinder would not operate unless the lid and the coffee container are in place.
What highlighted above are the usual burr coffee grinders that people would buy, simply because they are in the "right pricing" range. What we are highlighting next is on the high price tier.
In fact, at $129.95 this is a pricing that most folks would not pay for a grinder. And that is the price for a Saeco GT1. It is marketed as a high precision and consistent grind quality burr coffee grinder.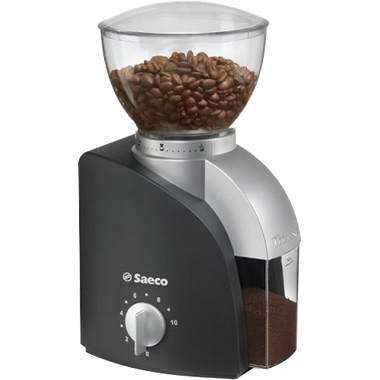 So, what set this grinder apart from other coffee grinders? It has a 12 selectable settings that can produce grounds for nearly any coffee brew. So, does many other burr grinders.
The element that you pay for its the advance burr grinding. The conical burrs with ridges are the "stuff" that produces the even and consistent coffee grounds.
Measuring a diameter of 50mm and grinding at a speed of 450 rpm, it is programmed in such a way that one burr is stationary while the other rotates. This creates an action that pulls the beans into the space between them and crushing them...
Well, I am pretty sure that at $129.95, no matter how good it is , it is difficult to be interested due to "high cost". However, you can still check out the 2 other burr grinders...


Now you wanna know more about coffee makers?